Communication Disorders
College of Health Sciences
 Esther Hartsky, M.A.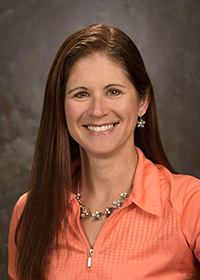 ASL Studies Coordinator, Assistant Lecturer American Sign Language 
M.A. Teaching American Sign Language - University of Northern Colorado 2021
B.A.S.  Exercise Physiology and Sports Management- Adams State University 2000
Associate's Degree- Interpreter Preparation Program - Pikes Peak Community College 2004
ehartsky@uwyo.edu | (307) 766-6405 | Health Sciences Center, Room 250
Teaching:
American Sign Language I, II, Advanced ASL, and Deaf Studies
Affiliations:
ASLTA- American Sign Language Teacher's Association
RID - Registry for Interpreters for the Deaf
President of WYRID- Wyoming RID 2013-2017

Certification:
NIC-RID Nationally Certified Interpreter

EIPA -Educationally Certified Interpreter
Esther Hartsky began her journey at Adams State University where she discovered her love for American Sign Language and the Deaf community. Following her passion, she attended Pikes Peak Community College and earned her degree in interpreting. Esther has been a sign language interpreter for 18 years; she became nationally certified within one year of graduating from the interpreter preparation program. Her passion for American Sign Language and the Deaf Community has fueled her thirst for this unique field and to be a forever learner. Esther strongly believes that the Deaf culture needs to be fostered and cherished. She is very excited about teaching ASL to be able to spread this language and culture to others so they can help open more opportunities to this minority group of people.