Contact Us
Department of Geology and Geophysics
1000 E. University Ave.
Laramie, WY 82071-2000
Phone: 307-766-3386
Fax: 307-766-6679
Email: geol-geophys@uwyo.edu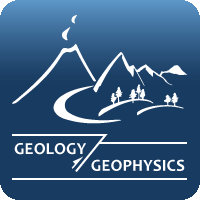 UW Geological Museum Ranked Among Nation's 'Most Amazing'
April 10, 2015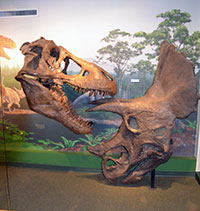 These are among the exhibits on display at the UW Geological Museum.
The University of Wyoming Geological Museum is ranked 12th on a list of the "50 Most Amazing College Museums" released by CollegeRank.net.
The list was compiled after exhaustively looking at public data on every college and university museum in the country. Among factors considered were public access; past, current and planned exhibits; architecture; history; and campus integration and support.
The ranking can be viewed at: www.collegerank.net/most-amazing-college-museums.
The UW museum is described as "a hotbed of paleontology, individual and family visitors will be struck by the unique dinosaur fossils on display here."
The article notes that "Wyoming has always been a place of natural wonders, and it's no surprise that the University of Wyoming has many treasures in store for visitors to its Geological Museum." It cites the excellent guided tours and a free admission policy that make UW one of the "friendliest museums in the U.S., especially for visitors with children."
Sara Moore, the article's author, says the ranked facilities represent a vast array of history, art and culture at some of the nation's finest universities and colleges.
"The goal of the list is to bring attention to deserving campus museums that are often under-appreciated campus treasures," Moore writes. "We hope this list draws attention to some great facilities around the country and allows them the opportunity to continue to foster art and history education in their respective locations."
CollegeRank.net ranks a wide range of topics pertaining to the college selection process to help prospective students choose a college that best suits their needs.
Open weekdays from 10 a.m.-4 p.m., the UW Geological Museum features a variety of displays to illustrate Wyoming's past environments, highlighted by a 75-foot Apatosaurus (Brontosaurus) skeleton that dominates the museum's exhibit hall. Another highlight is "Big Al," a display of the most complete Allosaurus fossil ever found.
Samuel H. "Doc" Knight, the legendary Wyoming geologist, was an early museum curator. Knight painted one of the museum's large murals and constructed a campus landmark, the large, copper-plated Tyrannosaurus rex that stands outside the museum.
Contact Us
Department of Geology and Geophysics
1000 E. University Ave.
Laramie, WY 82071-2000
Phone: 307-766-3386
Fax: 307-766-6679
Email: geol-geophys@uwyo.edu