Department of Geology and Geophysics
1000 E. University Ave., Dept. 3006
Laramie, WY 82071
Phone: 307-766-2646
Email:
geolmus@uwyo.edu
Museum Hours:
Open Monday-Saturday 10 am- 4 pm
CLOSED  SUNDAYS & HOLIDAYS
Admission is always free!
The University of Wyoming Geological Museum in Laramie supports academic programs, scientific research and public education. It is overseen by the Department of Geology and Geophysics in the College of Arts and Sciences. The UW Geological Museum features a variety of displays to illustrate Wyoming's past environments, highlighted by a 75-foot Apatosaurus (Brontosaurus) skeleton that dominates the museum's exhibit hall. Another highlight is "Big Al," a display of the most complete Allosaurus fossil ever found. 
Samuel H. "Doc" Knight, the legendary Wyoming geologist, was an early museum curator. Knight painted one of the museum's large murals and constructed a campus landmark, the large, copper-plated Tyrannosaurus rex that stands outside the museum.
Darwin Days- February 11th & 12th
Please join us to celebrate the legacy of Charles Darwin on Thursday, February 11th, for our annual Darwin public presentations at the Berry Center, and again on Friday, February 12th for Darwin-Trivia at the Gardens Bar in the UW Union.
Thursday's event will take place in the Berry Biodiversity Center Auditorium, and will feature three UW faculty members actively researching concepts in evolution. Reception with light snacks will start at 6pm and presentations will take-place between 6:45pm-7:30pm.   Our speakers include Dr. Ellen Currano speaking on plant evolution, Dr. Mark Clementz on evolution of marine mammals, and Dr. Katie Wagner who will discuss evolution of fish.
Then, form a team of 2-5 people to test your knowledge of Darwin, Plants, Animals, and Evolution and compete for 'The Fittest' grand champion trophy (and other prizes) at Darwin Trivia, taking place Friday, February 12th, at the Gardens Bar (seating made available for over AND under 21 participants) located in the basement of the UW Union. Team registration will open at 5pm; Darwin-Trivia, mc'ed by the infamous Chimp-Darwin, starts at 5:30pm. Veggies, chips, and salsa will be provided to contestants.  Some of the trivia questions will be sourced from the public presentations on Thursday night, so be sure to attend both!
Darwin Days is co-organized by the Berry Biodiversity Center, the UW Geological Museum, and the Geology Student Club.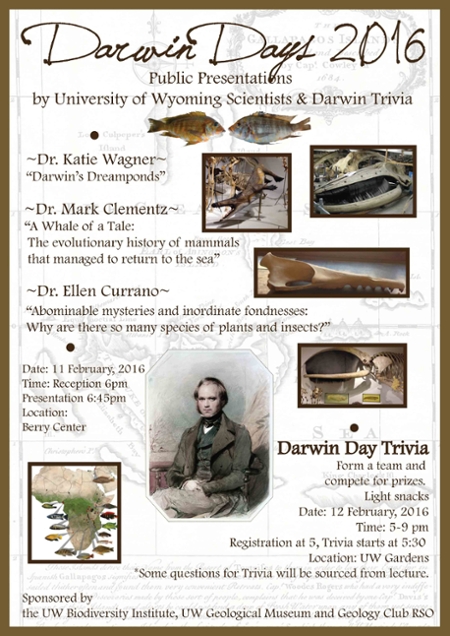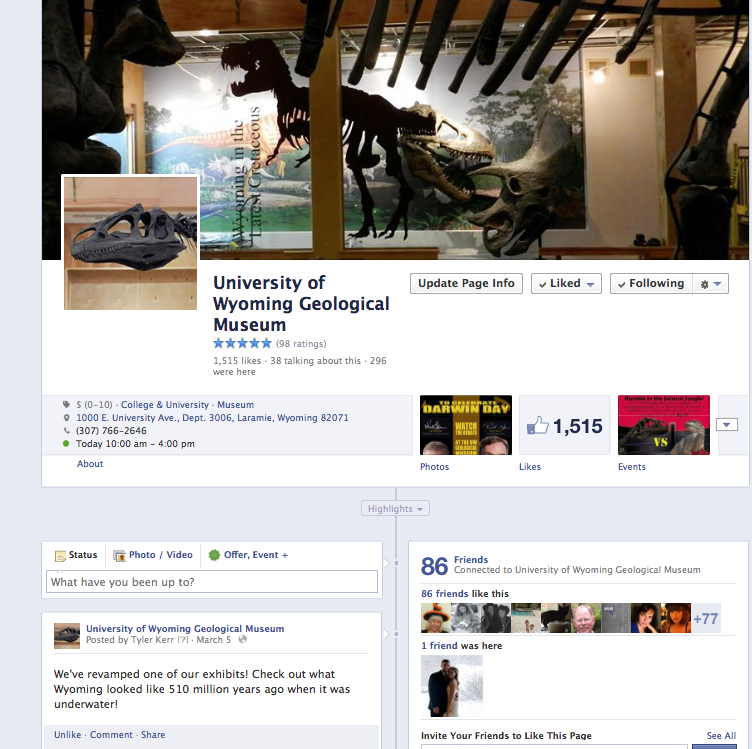 Take a look at the Geological Museum's Facebook page to stay up on the latest in the Museum!!