Department of Geology and Geophysics
Undergraduate
Summer Field Camp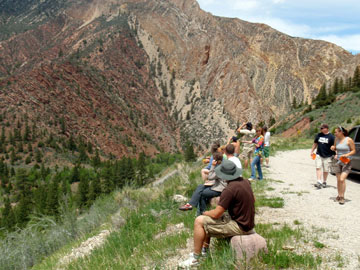 *The 2016 Field Camp is full!
>> Link to video of 2013 field trip
Supporting agencies: University of Wyoming College of Arts and Sciences and the Wyoming Geological Survey
Corporate Sponsors: Brunton Company, Estwing Manufacturing
Course Number: GE 4717
6 Credit Hours
Early Summer Session
Reviews field observation of geologic phenomena, methods of geologic mapping and interpretation of data collected. Course consists mainly of field trips and projects. Please see Course Description.
Field Course in Geology Course Description
Dates: May 24–July 12, 2016 (six weeks).
Cost: Tuition for summer 2016 will be $119.00/credit hour, at resident rate. The field course fee will be $1800.00 for all three sections, $1200.00 for two sections, and $600.00 for one section, with additional university fees of $200-300.00 based on number of credit hours. The field course fee covers transportation during field work (not airfare to Laramie), course supplies, some instructional costs, meals and lodging while away from Laramie. While in Laramie or working from Laramie, meals (including lunch) and lodging are not covered.
*Note: The University of Wyoming offers this course to both residents and non-residents at resident tuition rates.
Recommended Texts (not required):
Geology in the Field, by Robert R. Compton
Dictionary of Geological Terms, by Robert L. Bates and Julia A. Jackson, eds.
Prerequisites:
Stratigraphy and sedimentation (required)
Structural geology (required)
Mineralogy, igneous petrology (recommended)
Application Deadline:
Applications are reviewed as they are received. Apply early to improve your chance for acceptance.
Financial Aid:
In order to receive financial aid from UW, students must be enrolled as degree-seeking students at the University of Wyoming. It is possible to enroll as a degree-seeking student for the summer, but the process takes several months. Students are encouraged to START EARLY (January) in their search for financial aid. Other sources may include: NAGT, the National Association of Geology Teachers, which annually awards scholarships to students who are attending a recognized field course. Information and application forms can be found at the NAGT website.
To apply for Summer Field Camp Scholarship/Financial Assistance please complete the Geology and Geophysics Summer Application at uwyo.academicworks.com.

Contact or send applications to:
Dr. Erin Campbell-Stone
Department of Geology and Geophysics
University of Wyoming, Dept. 3006
1000 E. University Ave.
Laramie, WY 82071
Phone: (307) 766-2053
Fax: (307) 766-6679
E-mail: erincs@uwyo.edu