Checking your candidate's references provides a valuable means of verifying their skills and experience they represented in their resume and interview. By conducting detailed reference checks on candidates, you avoid finding out after the person has been hired, that they misrepresented themselves in order to obtain a position.
SkillSurvey Reference is a web-based system that improves reference checking by automating the process of receiving feedback from references via job-specific surveys on at least 26 critical behaviors and skills. These behavioral competencies have been scientifically studied and have shown to correlate with work outcomes.  Instead of you making calls and asking the same basic questions, SkillSurvey does the work for you. Within a couple of days you will review a report that has predicative analytics, competency ratings, overall average ratings, comments, and reference contact information. SkillSurvey Reference helps you reach more references faster, gaining candidate insights that can reduce turnover and drive better performance.
For more detailed information please review this Guide for Hiring Managers.  Many other higher education institutions utilize Skill Survey as a reference checking tool with great success.  Additionally, Skill Survey's library of validated, EEOC compliant surveys can assist in identifying the best candidates without introducing any bias (race, age, gender) into the process as compared to other types of reference checking and letters of recommendation.
Candidates will enter in their references when prompted to do so via email. References will then receive an email or text message depending on the method of communication the candidate selects for their references when entering them in SkillSurvey.
The below chart demonstrates the reference checking workflow and activity by role.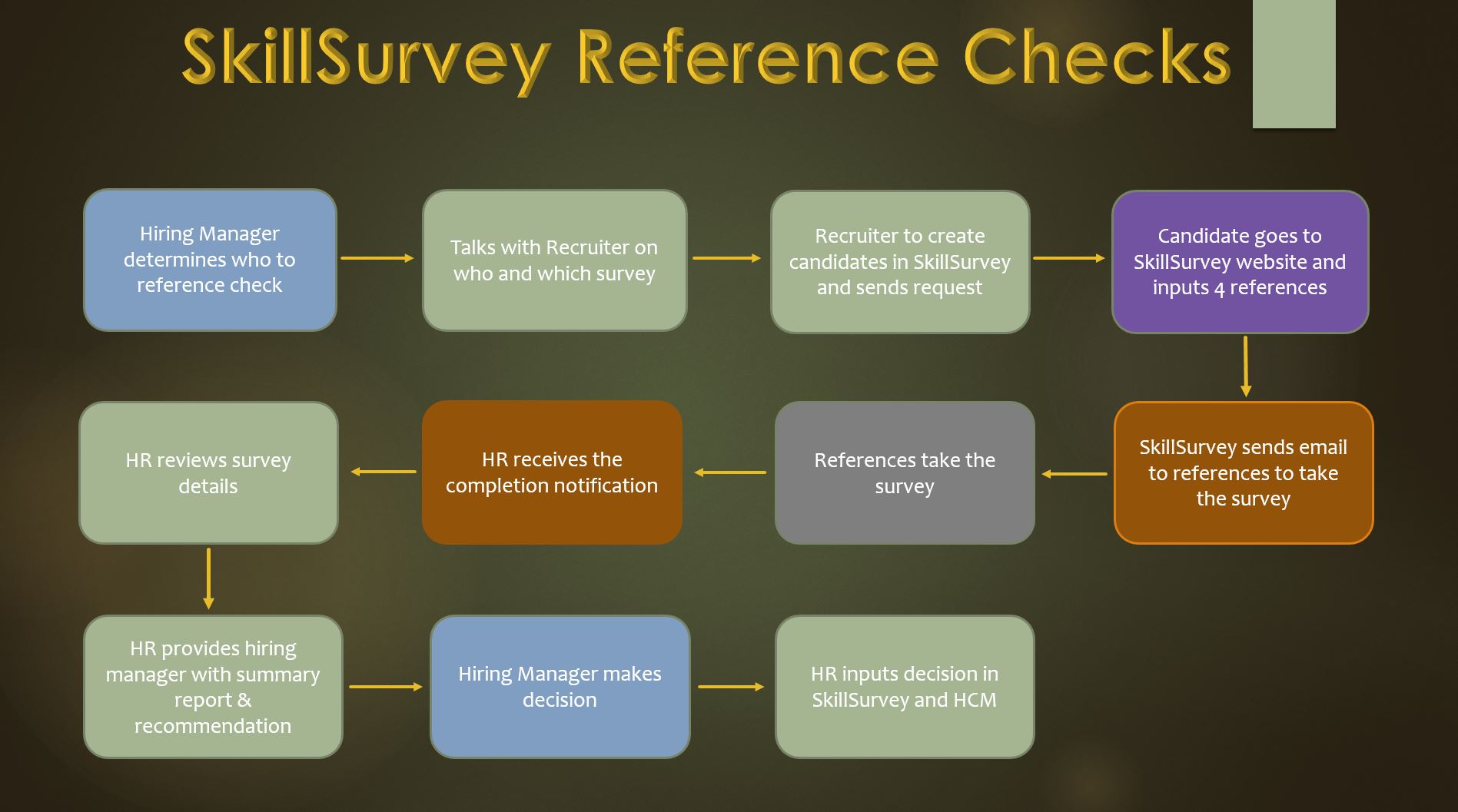 An additional benefit of this tool is that you are able to do the reference checks for multiple top candidates, and have them completed in a more quick and efficient manner. Along with the SkillSurvey summary, you are still free to contact the references by phone and do a standard reference check to verify employment and skills, if you choose.
The University of Colorado, Colorado Springs has added Skill Survey into their selection process to improve hiring efficiency, ensure compliance and find the best candidates - Take a few moments to watch this video!  Additionally, Clemson University has done the same and have shared their information in a video as well.
Please contact your Staffing/Employment Partner for any additional questions that you may have.