Biomechanics
| | | | | | | |
| --- | --- | --- | --- | --- | --- | --- |
| |    |    | |    |    | |
| Start Your Graduate Application Now |   |   | Visit Campus Today |   |   | Questions? |
About This Program
The biomechanics concentration is of interests to students who want to pursue careers in injury and biomechanics, athletic training, physical therapy, strength and conditioning, and rehabilitation.
Our research areas include understanding the mechanisms of exercise, sports, and work-related lower extremity and spinal injuries, development of effective injury prevention and rehabilitation strategies, analysis of sports techniques and performance, and motor control and learning.
The laboratory is equipped with motion capture systems, multiple force platforms, and electromyography measurements to study human movements during a variety of athletic and daily-life activities. Recent projects cover strength and balance assessments in collegiate athletes, jump-landing mechanics and anterior cruciate ligament injury risk, biomechanical analyses of strength and conditioning exercises, and dance techniques. 
Most of our graduates entered competitive Doctor of Philosophy or Doctor of Physical Therapy programs. Helping students achieve their long-term goals is our priority.
Why Biomechanics?
The biomechanics track is designed for students who want to work in the field of injury and sports biomechanics, sports medicine, and rehabilitation. The curriculum encourages understanding the biomechanics of sports techniques and the association between biomechanics and sports performance as well as applying biomechanical measurements and MATLAB programming to evaluate injury risks and assess injury prevention and rehabilitation strategies. Students who graduate from this Track are well prepare to pursue a Doctor of Physical Therapy and a PhD as well as other aspects of applied biomechanics.
Links to professional organization websites and demonstration of the field in action!
Contact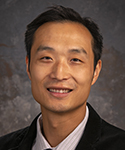 Boyi Dai, PhD
307-766-5423
Biomechanics Lab