Catherine Johnson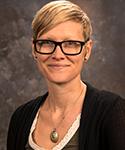 Biography
Catherine Johnson is an Assistant Lecturer and joined the LeaRN program in 2019. She teaches first-year composition, first-year seminar, and technical writing. Her research and teaching interests include Universal Design for Learning, critical thinking, and creative nonfiction writing, especially the personal essay and memoir. Beyond UW, Catherine enjoys yoga, cooking, hiking, and traveling. 
Education
M.F.A., Portland State University
M.A., American University
B.A., Whittier College
Recent and Upcoming Courses
First Year Seminar: What Are You Working For?
First Year Seminar: Exploring the Functions of Storytelling
English 1010: Composition & Rhetoric
English 2015: Composition & Rhetoric II
English 4010: Technical Writing
Selected Publications
"No Impeccable Self to Reach." Propeller. Summer 2019. Web. https://www.propellerbooks.com/posts/2019/7/17/collected-schizophrenias-review
"People Not Pundits." Oregon Humanities. Summer 2018. Print and Web. https://www.oregonhumanities.org/rll/magazine/turn/people-not-pundits/. 
"Santosha and White Privilege: Why We Shouldn't be Silent about Unintentional Racism." Elephant Journal. September 2018. Web.
https://www.elephantjournal.com/2018/09/santosha-white-privilege-why-we-shouldnt-be-silent-bout-unintentional-racism/
"Spinstering." Gulf Stream. Winter 2019. Web. https://gulfstreamlitmag.com/spinstering/
Selected Awards
Tom Bates Fellowship in Memoir, Portland State University (2016)
Excellence Award in Nonfiction, Portland State University (2016)