Department of Music
Department 3037
1000 E. University Avenue
Laramie, WY 82071
Phone: 307-766-5242
Fax: 307-766-5326
Email:
musicdpt@uwyo.edu
Department of Music
Main Office
Fine Arts 258
Laramie, WY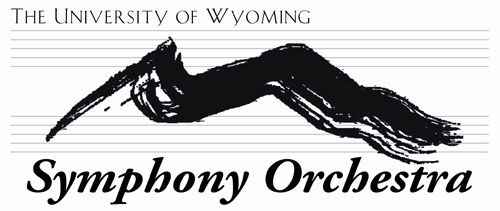 Symphony Orchestra
The University of Wyoming Symphony Orchestra is a 90-member ensemble playing the finest in orchestral repertoire. With soloists ranging from internationally known guest artists to faculty performers to student competition winners, and with tours throughout the Rocky Mountain region, the UWSO performs many exciting concerts each year. In 2007, the orchestra embarked on a week-long tour of Bolivia, with concerts ranging from Centro Sinfonico in La Paz to village churches and plazas. (Read story and view photos.)
Audition information can be found here.
Click HERE to download UWSO season brochure!
Check us out on Facebook, too!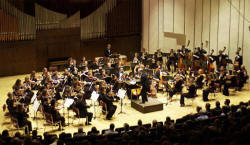 The UWSO has performed with many world-class soloists.  Artists they have accompanied range from harpsichordist Igor Kipnis to the Los Angeles Guitar Quartet to pianist Christopher O'Riley (host of National Public Radio's From the Top) to NY Philharmonic Principal Cellist Carter Brey to the classic rock band KANSAS!  In addition, they have collaborated in shared concerts with the Shanghai University Orchestra, Orquesta Municipal de El Alto (Bolivia), and the Colorado Springs Youth Symphony.

New works by fascinating, living composers are often found on UWSO programs, and the orchestra was a winner of a 2005 ASCAP/American Symphony Orchestra League Award for Adventurous Programming. In 2009 we were one of only three college orchestras invited to participate in the Ford Made in America program, and our 2000-2001 Premieres for the Millennium season included four new works composed expressly for the UWSO. Other year-long orchestral projects included participating in UW's 2010-11 residency with Pulitzer- and Grammy- winning composer Jennifer Higdon, a 1999-2000 retrospective on 20th Century music and 1998's Hildegard's Year, which saluted all women composers in honor of the 900th birthday of Hildegard von Bingen, a medieval German nun and composer.  We have commissioned many works - either alone or within a consortium - including music by Joseph Schwantner, Judith Lang Zaimont, and Joseph Curiale.
Works played by the orchestra during Maestro Griffith's tenure include symphonies by Mahler, Shostakovich, Sibelius, Tchaikovsky, Beethoven, Dvorak, Vaughan Williams, Schubert, Schumann, Mendelssohn, Mozart, Haydn, Hanson, and Borodin; Mussorgsky's Pictures at an Exhibition, Strauss' Death and Transfiguration, Respighi's entire Rome trilogy, Rimski-Korsakov's Scheherazade, Elgar's Enigma Variations, Stravinsky's Firebird Suite, de Falla's The Three-Cornered Hat, and more. They have joined UW choral groups in large vocal works such as Carmina Burana and the Brahms and Mozart Requiems, and played in the pit for theater works including La Traviata, The Nutcracker Ballet, The Magic Flute, Don Pasquale, Così Fan Tutte, The Mikado and Pirates of Penzance.
Orchestra membership is by audition only. Players are drawn primarily from the university student body, including both music majors and talented musicians majoring in other fields of study. Many of the members receive some scholarship aid in return for playing in Music Departmental ensembles. There are also a few Laramie residents who participate in the orchestra.
Dr. Michael Griffith took over the podium of the UW Symphony in 1989.  Since then the orchestra has grown significantly in size, playing level, and repertoire.  He was named a UW "Top Ten" teacher by the graduating classes of 2006 and 2012, has served as a guest teacher at such disparate institutions as the Sibelius Academy in Helsinki and at Shanghai University, and was President of the Conductors Guild.  UWSO concerts in Laramie draw a large and appreciative audience and are an important part of the cultural life of the university community.
The biennial Dorothy Jacoby Student Soloist Concert gives UW's best students an opportunity to perform as soloist with the orchestra. The student judged to have given the finest performance that evening wins a substantial cash award.
The Symphony Association for the University of Wyoming offers significant support to the orchestra. T

his Laramie-based organization funds scholarships, tours, equipment needs, commissions and  other special projects. They also encourage community involvement in orchestra events, help with educational projects, and offer occasional social outlets for lovers of symphonic music.  www.uwyo.edu/sa
Orchestra tours are funded by a combination of sources. These include the University, the UW Foundation, the Symphony Association, private donors and host communities, the Wyoming Arts Council, and the National Endowment for the Arts. The UWSO is a part of the UW Department of Music, Dr. Theresa Bogard, Chair, in the College of Arts and Sciences, Dr. Oliver Walter, Dean.