Wilderness Nursing Simulation
Students make up snow day with unusual simulation
The week before classes ended, students in the nursing program at the University of Wyoming still needed to make up some clinical time from snow days earlier in the semester. Nursing faculty member Ann Wislowski (pictured above, left) decided to implement a "wilderness nursing" simulation for the students. She mocked up a scenario on campus outside the Student Health Building. In the above picture, Wislowski is showing the volunteer patient/actor (David Wells, Doctor of Nursing Practice student and graduate assistant) what he needs to do and say once the students arrive at the mocked up scene.The blood and bruise on the "patient's" face was fake.
Once the students arrived (below), they found a bicycle wrecked atop one of the boulders strewn about the Student Health Building and the biker stunned and sitting nearby. In the bottom picture, students stabilize the patient after completing an emergency assessment.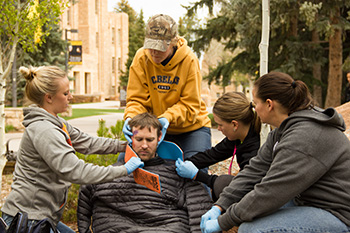 Wislowski has an article in press with the Journal of Emergency Nursing titled, "Nurses gone wild: the role of nursing in wilderness medicine." She is a volunteer for Albany County Search and Rescue Association and will be studying to complete a PhD in Nursing, with a focus on high altitude pulmonary edema, starting this coming fall.

Pictured with patient David Wells, l-r: Janelle Nessan, Heather Beaman, Olivia Visoky and Laura Williams.
----------
5/21/2015; Updated 5/26/15