Convocation Awards 2019
Fay W. Whitney School of Nursing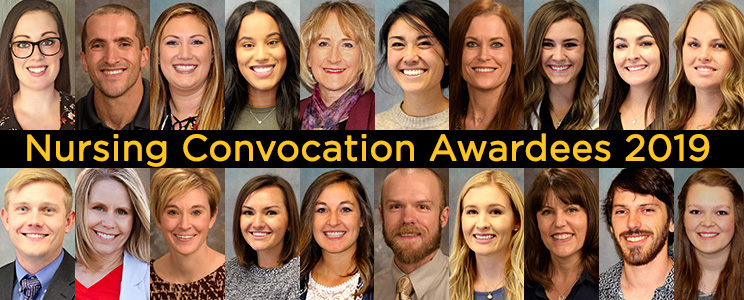 Pictured top row, left-right:
Jaclyn Barnes [Convocation Speaker], Randy Baxter, Emily Bishoff, Devon Flaim, Laurie Heath,
Morgan Lu, Carolyn Pignataro, Sarah Clinkenbeard, Allison Brown, and Marysa Barton.

Pictured bottom row, left-right:
James Willox, Heidi Smith, Meghan Pankey, Emily Stanton, Kacie McCleary, Jeff Shideman, Meghan Mercer, Sherra StClair, Aaron Johnston, and Katharine Baldwin.
----------
University of Wyoming Nursing Students Recognized at Convocation 2018 Ceremony
Congratulations to the 20 students pictured above, who were honored at the 2019 Nursing Convocation Ceremony in the Arts & Sciences Auditorium on Friday, May 17. Students receiving awards who are graduating from the Doctor of Nursing Practice (DNP) Program: Randy Baxter, Carolyn Pignataro, Meghan Pankey, Jeff Shideman and Sherra StClair; from RN-BSN Completion, Heidi Smith; from BRAND accelerated BSN, Jaclynn Barnes (Convocation Speaker), Kacie McCleary, Emily Bishoff, Laurie Heath, Katharine Baldwin and Aaron Johnston; from the on-campus Basic BSN: Sarah Clinkenbeard, Morgan Lu, Devon Flaim, Marysa Barton, Allison Brown, Meghan Mercer, Emily Stanton, and James Willox. Please scroll down for descriptions of each individual's award...
------------
05/16/2019