Contact Us
Fay W. Whitney School of Nursing
University of Wyoming
Dept. 3065; 1000 E. University Avenue
Laramie, WY 82071
Phone: 307-766-4312
Fax: 307-766-4294
Email: uwnursing@uwyo.edu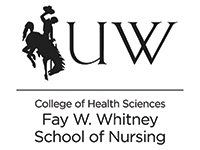 Purtzer receives CHS Innovation in Teaching Award
On April 25, 2019, UW Nursing Associate Dean Mary Anne Purtzer received the College of Health Sciences Innovation in Teaching Award at the annual College of Health Sciences ceremony. Read below what was read about Dr. Purtzer by nursing faculty Dr. Nancy McGee at the CHS event:
SELECTION CRITERIA
This award recognizes outstanding innovation in classroom, laboratory, or clinical teaching within the College of Health Sciences. Dr. Purtzer was selected for this award due to the significant impact her adult learning theories have had not only in her own classrooms, but throughout the Fay W. Whitney School of Nursing.
Dr. Purtzer has drawn on her strong background of adult learning theories and her expertise of Jack Mezirow's theory of Transformative Learning to foster critical growth among the entire faculty of the Fay W. Whitney School of Nursing. Dr. Purtzer implemented this theoretical framework as the foundation of the MS program based on transformative learning and leadership.
Dr. Purtzer has taken the abstract learning theories and developed meaningful and concrete ways for the faculty to apply the transformative theories within the classroom. She encourages faculty to utilize critical self-reflection to recognize and transform personal biases. Dr. Purtzer introduced the faculty to an evidenced-based method for facilitating this transformative process: the Seven Languages for Transformation, which helps learners to engage in critical self -reflection that can result in tremendous growth.
STUDENT INPUT
One of Dr. Purtzer's students wrote the following in support of Purtzer for this award:
"Dr. Purtzer introduced me to the concept of "transformative learning," which is a theory of adult learning where the adult exploits disorienting dilemmas to change one's thinking. The individual is encouraged to use and develop their critical thinking and questioning skills to challenge their underlying assumptions and beliefs of the world. Mary Anne continually applies this teaching theory throughout her courses by creating intellectually challenging discussion posts. To be honest, I have never been one to get excited over online discussions until I encountered the first class I took taught by Mary Anne--Theoretical Foundations in Nursing. Not only did I learn from Mary Anne's provided material, but it sparked rich interactions between my classmates and me, with Mary Anne's guidance throughout every discussion. Never before have I looked forward to each learning model with such anticipation and excitement."
CLOSING REMARKS
"Dr. Purtzer, thank you for challenging me in my own self-reflection and transformative journey," said McGee. "It is an honor to present you this well-deserved Innovation in Teaching Award."
Contact Us
Fay W. Whitney School of Nursing
University of Wyoming
Dept. 3065; 1000 E. University Avenue
Laramie, WY 82071
Phone: 307-766-4312
Fax: 307-766-4294
Email: uwnursing@uwyo.edu