Jessica Sutter, a third-year PhD student in the Physics and Astronomy Department is our Fellow of the Month for March. Throughout Jessica's participation in the 2017-2018 LAMP Educational Development Program, she has become an inspirational designer of student-centered curriculum for the non-majors Astronomy course. She knows just how precious and fleeting one learning moment can be for each student: 
"I believe the most important thing that my students can take away from this six week course is a better understanding of the scientific process and an appreciation for the study of the cosmos. I think that this is much more important than students leaving with a memorized list of facts about Space that will quickly be forgotten. As some of the students in the course will not take many Science courses in the future this could be a crucial time to help them see the world from a scientist's point of view and better understand how a theory is tested and understood."
In order to give students "the scientist's point of view", Jessica creates activities using real data from journal literature / famous past experiments, allowing students' self-discovery. For example, when given the rotational period of Saturn and one of its moons as well as Saturn's angular size in the sky, students determine the mass and radius of Saturn. In another activity, students are given images of galaxies and asked to find their own way to categorize them. One of Jessica's learning outcome is for students to design their own experimental plans and in facilitating this Jessica gives her students both a high level of ownership and empowers them to make their own choices. She also creates a space in which students can safely practice failure and thus deeply learn.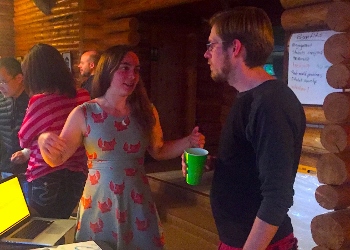 Jessica presents her curriculum design project to Caleb Hill (a LAMP Faculty Fellow in the Chemistry Department)
In Jessica's many active learning sessions, she validates different ways of knowing by changing the skill sets that are given value. This enhances inclusion of diverse students as does Jessica's strategy for creating student groups. However, Jessica does not stop there; she carefully knits in narratives of famous scientists from underrepresented groups and makes certain that their stories are valued.
When asked what had changed for her since arriving at the LAMP Summer Institute, Jessica said, "Before this trip, I think I was more focused on making learning fun, and just trying to bring my excitement about astronomy to a classroom. Now I want to make sure I have a clear, specific goal for my students and my courses. I am trying to make sure all activities I do in class are focused towards these goals, and my students actually progress during each class."
In order to assess her students' learning, Jessica has devised an assessment strategy that is both creative and fun. On the first day of class she asks students to propose a plan to determine the nature of stars. Jessica then plays the video clip from Disney's Lion King in which Timon and Pumbaa are debating whether stars are trapped fireflies or burning balls of gas. She asks the students how they might go about testing these hypotheses. Jessica then repeats this assessment at the end of the semester and monitors student growth.
On February 16th, Jessica led our cohort of faculty, graduate students and post-docs through an active session in which we interpreted real data to graph the speed at which a coronal mass ejection was moving. We could use our findings to advise astronauts. This activity was one of several open educational resources (OERs) that Jessica had adopted and modified. These freely accessed OERs complimented many original activities that Jessica created over long nights of compiling primary literature data to provide to her students. Further supporting her dedication to inclusion, in addition to utilizing free resources, Jessica incorporated students' personal interests into the course, noting, "Students got to vote on what they did during the last week. This made the last week super fun and 100% of students said they appreciated having choice."
When Jessica asked the students to return to the methods they would use to test Timon and Pumbaa's hypotheses, the students' responses showed increases in scientific literacy but also discipline-specific knowledge. Below shows the contrast between one student's first day and final response:
First Day: "Pumbaa can also prove Timon's theory wrong because fireflies are insects, and most insects have a life span of a few weeks. He can create a star map, and if in a year or so, most of them haven't gone out, he can say with reasonable certainty that they're not fireflies"
Final: "Now, we know that every star contains Hydrogen, and that Hydrogen gives off distinctive emission lines. I can now somehow get Timon and Pumbaa a spectrometer, along with a container of pure Hydrogen, a gas. The Hydrogen can be heated up to measure its emission spectrum, there should be one line in particular that stands out, the Hɑ line. Then the spectrometer could be used on a few stars."
Jessica is truly making the most of a precious and fleeting moment of student learning! Congratulations Jessica! You are literally rocking our planet!
- Rachel Watson, 2/22/18
---