LAMP Faculty Of The Month (September, 2017)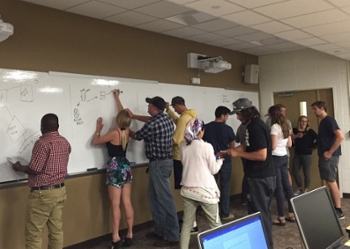 This month, we are featuring Assistant Professor Dr. Chen Xu of the UW Geography Department. Dr. Xu is one of twenty-six faculty members and graduate students selected as LAMP Fellows for the year of 2017-2018. After kicking off the year with an intense week of active learning training at the UW-NPS AMK Research Station in Grand Teton National Park, Dr. Xu spent the remainder of the summer completely redesigning his Introduction to GIS (Geographic Information Systems) class.
Dr. Xu has adopted active learning in place of traditional lecture and the course is filled with group tasks, group discussion, short presentations, guest speakers and multimedia enriched interaction. In fact, when simply learning what GIS is, students have the following tasks:
"The five M's of GIS are mapping, measuring, management, monitoring and modeling.
Pair with another colleague; choose an academic journal or a trade magazine and using this as source find an article that uses GIS. In each case classify the principal aim of the article into one or other of these M's.
Prepare a three-minute presentation for 1) Brief summary of the project; 2) What is the principle aim (which M's)? 3) How is GIS used to achieve that aim?"
These activities are not only engaging but they are also grounded in very rigorous teaching and learning best practices. Each activity is designed using 'backwards course design' in which Dr. Xu first determines the learning outcome (what he wants his students to be able to do) and then designs the activity that best allows students to reach this outcome. After holding his first class period during which students constructed concept maps, one of Dr. Xu's students told him that the activity, "forced her to think hard" and Dr. Xu noted that it was amazing to see students learning from each other.
Congratulations Dr. Xu!
---