Scott Quillinan
School of Energy Resources
Scott Quillinan, Senior Director of Research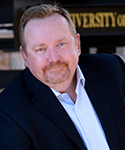 Mr. Scott Quillinan is a Wyoming Native, Wyoming graduate, Wyoming licensed professional geologist and has focused his career on Wyoming energy-related challenges. Scott was born and raised in Evanston, WY and then attended the University of Wyoming, where he earned a Bachelor's ('06) and Master's degree in Geology ('11). Scott began work at the Wyoming State Geologic Survey (WSGS) shortly after obtaining his B.S. While at the WSGS, he worked and collaborated with many of the various departments including Coal, Oil and Gas, Coalbed Methane, Unconventional Resources, and Groundwater.
In 2011, Scott joined the School of Energy Resources, Carbon Management Institute, recently renamed the Center of Economic Geology Research (CEGR). At CEGR, he was a Senior Researcher and focused largely on providing carbon management solutions for Wyoming's fossil fuel industry. Scott has researched, published, and presented extensively on Energy/Water challenges associated with the production of coal, coalbed methane, oil and gas, hydraulic fracturing, rare earth elements, and carbon management. Currently, he is the Principal Investigator on two large DOE-funded projects including 1. Assessing rare earth element concentrations in geothermal and oil and gas produced waters: A potential domestic source of strategic mineral commodities 2. Integrated Commercial Carbon Capture and Storage (CCS) Project at Dry Fork Station, Wyoming. In addition to the work in Rocky Mountain Basins, Quillinan has spent 8 years collaborating closely with Chinese academic and industrial partners through the U.S. China Clean Energy Research Center.
In his personal time, Scott is an avid outdoorsman and loves everything and anything to do with bicycles, a pair of skis, and Wyoming Cowboy Football. Aramco.