Clean Energy Careers
January 31, 2019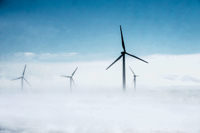 Explore clean energy jobs as a land acquisition specialist.
Land Acquisition Specialist
By Pam Henderson, Academic Advising Manager
Many students today are interested in exploring careers focusing on clean and renewable energy. Today we begin our series exploring opportunities in this expanding arena of the energy industry.
A land acquisition specialist works with developers and projects owners to obtain land for new wind or solar development. They administer the land after purchase or lease and work with attorneys, engineers and scientists while the wind farm or solar array is under construction.
Employers look for candidates with a bachelors degree and experience in land acquisition and provide training to their specific wind or solar needs.
Does this sound like an exciting opportunity for you? Explore the Professional Land Management concentration through the Energy Resource Management and Development program at the University of Wyoming! Our classes in property, contracts and land management prepare you for land acquisition.
Request a viewbook and connect with us!