AAPL Annual Meeting
July 10, 2019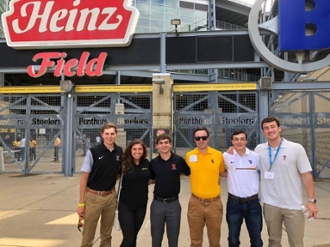 With students from other AAPL accredited programs before the Welcome Reception
Student Leadership Conference
By Colton Edwards
In June I had the opportunity to go to Pittsburgh, PA to attend the American Association of Professional Landmen (AAPL) Annual Meeting. The Landman Scholarship Trust (LST) helped bring one student from each AAPL accredited school to the meeting where we were able to meet each other and much of the AAPL leadership.  
The first day of the meeting was on Wednesday, first I met the other students and the LST members at the hotel. We then went to Heinz Field for the Welcome Reception. Here we had the opportunity to network with professionals from around the country. This was a great chance to learn more about different perspectives and issues that other landmen see. After the reception we went to the Pirates game where we watched them beat the Detroit Tigers 8 to 7.  
Thursday officially started the Annual Meeting with the Opening Session. The session began with awards, including the AAPL Outstanding Graduate Awards which was given to recent UW graduate Jared Adams. Alexandra Pruner, an Independent Director for both Anadarko Petroleum Corporation and Plains All American, then gave the opening remarks where she highlighted the work being done to responsibly produce energy in the United States while also stressing the importance to continue this work. After this, Jay Beavers III, CPL officially took over as the President of the AAPL. A few hours later, I met with the LST and the other students to find ways to improve our education as well as find more opportunities for students. Incoming President Jay Beavers III, CPL was able to make the end of the meeting which highlighted the importance that the AAPL is placing on its educational programs. The day ended with the Hot Play Happy Hours where each region was split into different rooms. I spent time meeting people in both the Rocky Mountain Region and the Permian Basin (West Texas).  
On Friday I was able to attend multiple educational events. One that I personally found interesting was about geology. This was a great supplement to the geology class that I had taken my sophomore year. With the emergence of hydraulic fracturing, I was fascinated to see how the geology affects the production from these wells. I also spent some time on Friday exploring the city. The first couple days had been rainy, so I was happy to get a chance to finally walk around. The day ended with the Landman Bash, a fun event with a great free dinner. They also set up blackjack tables for people to play on without having to risk actual money. This was a fun way to end the meeting and last chance to spend time with the other students that I had gotten to know.