UW School of Energy Resources Faculty Members Produce Study with the USEA
December 3, 2020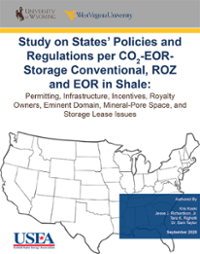 In a collaborative project with West Virginia University, Professor Tara Righetti of the College of Law and School of Energy Resources, and Kris Koski of the School of Energy Resources authored a study with the United States Energy Association (USEA).
The piece is entitled, "Study on State's Policies & Regulations per CO2-EOR Storage Conventional, ROZ and EOR in Shale: Permitting, Infrastructure, Incentives, Royalty Owners, Eminent Domain, Mineral-Pore Space, and Storage."
The study evaluates laws, policies, and regulations governing CO2-EOR, associated CO2 storage operations, and geologic storage across twelve states and onshore federal lands. This study principally includes two regions: the eastern region, comprised of the Illinois basin and the Marcellus shale region; and, the western region, comprised of the Permian Basin and Rockies regions. In anticipation of expanded interest in CO2-EOR as a result of the amended 45Q tax credit and recently released draft treasury regulations, it is increasingly important for legislatures and policy makers to understand legal and regulatory challenges to a more integrated and widespread implementation of CO2 storage.
The project provides comprehensive and comparative analysis of four dimensions of CO2 law, regulation, and policy:
1) land use, mineral, water, and pore space rights;
2) regulation of CO2-EOR and CO2 Pipelines;
3) eminent domain; and
4) Geologic CO2 Storage and Incremental Storage Regulation.
The study suggests opportunities to harmonize energy policies and address regulatory gaps and inconsistencies. The aim of this study is to facilitate better understanding of the legal underpinnings that frame risk, uncertainty, and investment in CO2 utilization and storage infrastructure and projects, and to provide a roadmap for changes which are conducive to regional project development. 
USEA will host a webinar December 3, 2020 for parties interested in summary results of the study. The authors will also present possible pathways forward with this information in hand.
The full report can be found here.
(Left) Tara Righetti – Professor of Law, University of Wyoming College of Law; (Right) Kris Koski – Director, Professional Land Management Concentration, University of Wyoming School of Energy Resources