Trina Pfeiffer Joins Center for Carbon Capture and Conversion
April 25, 2022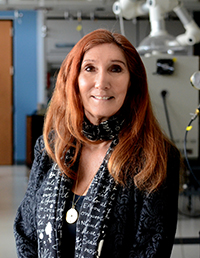 The School of Energy Resources (SER) is pleased to welcome Trina Pfeiffer as the newest addition to the Center for Carbon Capture and Conversion (CCCC).
Pfeiffer, who has previously worked with SER in a consulting capacity for the last 4 years, joins as a as a senior research scientist and permanent member of staff. In her new role, Trina will continue to provide process engineering and modeling support to the ongoing research within the CCCC, as well as provide direct guidance and supervision to graduate students working on the various carbon engineering projects.
"I love working with the students and am looking forward to getting to do more of it," says Pfeiffer. "It is one of the best parts about this job. It is really satisfying to talk with the students and give them some direction, and then see them succeed and grow."
She is especially a great mentor to women in the science, technology. engineering, and mathematics (STEM) fields. In a professional capacity, Trina served as the very first female local section chair for the American Institute of Chemical Engineers (AIChE) in the Denver area.
Originally from Denver, Pfeiffer was inspired to pursue a career in engineering after her father helped to put a man on moon. She earned both her B.S. and M.Sc. in Chemical and Petroleum Refining Engineering from the Colorado School of Mines in 1980 and 1982, respectively.
Following the completion of her education, Pfeiffer immediately began working for an engineering corporation for over a decade before starting her own consulting company. She brings forty years of technical experience with her to SER and a wealth of industry connections to help move projects in the CCCC closer to commercialization.
Pfeiffer has been instrumental in making the center's patent-pending thermo-chemical process technology a reality. The integrated coal refining system utilizes different conversion processes to break down Powder River Basin (PRB) coal and convert it into non-energy and fuel products with a minimal carbon footprint.
"I have been intimately involved in the implementation of the solvent extraction and pyrolysis processes that make up part of our coal refinery technology," explains Pfeiffer. "I am eager to continue my work on integrating these two process technologies, scaling them up, and providing troubleshooting assistance and advice to the students that are working on them presently."
As a chemical and petroleum refining engineer, Pfeiffer has developed acute expertise in process engineer modeling and process design, as well as project management. Her skills have been essential in the physical construction and safety of the process technology.
"I am the person that considers all the small things that make the big picture a reality," she says. "From determining the proper height of a tower, the heating capacity and pressure relief valves, to the safety design, or piping and instrumentation design, I provide the engineering basis on which the process technologies can be sized."
In short, she helps other researchers take the raw product to the final product, and her knowhow is massively important for the scaling-up of projects.
"Trina is a tremendous asset for the CCCC and the School of Energy Resources," says the CCCC's director, Richard Horner. "She brings important critical engineering skills to the coal conversion process technologies under development that will support scale-up and field demonstrations, which are essential if we are to commercialize our home-grown solutions."
In addition to lending her expertise to the process of converting PRB coal, Pfeiffer has also been involved in coordinating field demonstrations of coal derived products, which includes agricultural soil amendments, coal-derived building and construction materials, and asphalts for road and roofing applications.
Moving forward, she will continue to be involved in these projects while also leading new programs and serving as a co-principal investigator on a recently introduced rare earth element extraction project in the CCCC. She will also take charge of the CO2 capture pilot plant, that is currently being commissioned in the center.
"I am very excited about working for SER on both a personal and professional level" she says. "I want to see the coal refinery built and operating as a first-of-a-kind plant in Wyoming. I want to see it fully succeed and know that I was a part of it. Most importantly, I want to see these projects succeed for the bigger picture of providing a clean potential for coal and a bright future for the state and the world."