Scholarship Opportunities
The University of Wyoming is proud to offer a variety of scholarship opportunities. Our first-year (Resident, Non-Resident, and International) and transfer student opportunities are based on the student's academic achievements at the time of admission to UW. Our continuing student opportunities may be based on a variety of qualifiers such as merit, financial need, or specific student population. Be sure to file the Free Application for Federal Student Aid (FAFSA) to be considered for financial need based awards in the following school year.
To learn more about our First-Year and Transfer student opportunities select the student type below that best describes you.
---
Scholarships Awarded in WyoScholarships
WyoScholarships is the UW scholarship system. Students are strongly encouraged to complete the General Application each year to qualify and be considered for a wide range of scholarship opportunities. Students who have been awarded a first-year or transfer scholarship commitment are required to complete the General Application each year to fulfill their respective commitment. For more information on how to renew your UW Commitment or Scholarship aid go here.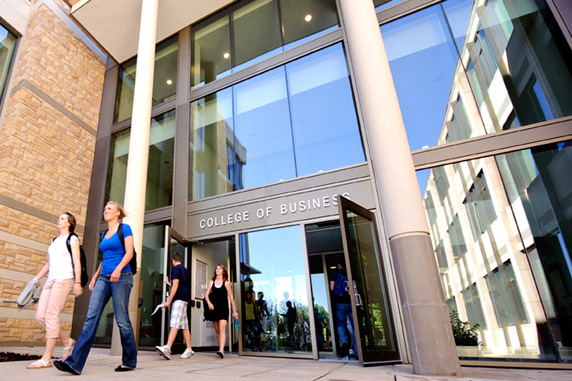 Complete the General Application and apply for a variety of scholarship opportunities by following the below steps:
Log into WyoScholarships
Click the "Sign In" button in the top right corner
Sign in with your UW Username and Password

If you are a first time user, complete the general application questions when prompted and click "Finish and Submit" when you have completed them.

You can now view all our offered scholarships by going to Opportunities > Ours or Opportunities > Recommended, and from there you can click "Show Filters" to filter by your College or Department.
All of the scholarships for the selected college/department will display.
If you are selected to receive a scholarship within WyoScholarships, here are some important things to know:
You will be notified via your UW email to accept and/or complete Post-Acceptance requirements, which may include a thank you letter to the donor(s). This is an important step in thanking the individuals whose generosity impacts and allows thousands of UW students each year to achieve their academic goals. 
Students must complete Post-Acceptance requirements and meet scholarship eligibility rules prior to the start of classes in order to receive scholarship funds.
Scholarship eligibility rules may vary dependent on the individual scholarship, which is outlined in the WyoScholarships description. You must remain qualified to receive the scholarship.  If an enrollment requirement is not listed, the university standard will apply (minimum of 12 credit hours for undergraduate and 9 credit hours for most graduate programs). The administering college/department may use their own discretion should selected students not be enrolled full-time.
---
External Scholarships
External scholarships are developed and funded by organizations external of UW. They're available to the public and can potentially help students cover the costs of their education and education-related expenses. Student eligibility rules are created by the organization offering the scholarship and can depend on many factors. If you are a student who has been awarded an external scholarship or are a donor/organization who is funding an external scholarship, please review the External Scholarships page for more information.