Science Math Teaching Center
College of Graduate Programs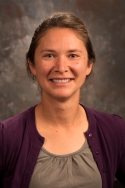 Martha Inouye
Research Scientist, Professional Development Specialist
252 Hill Hall
minouye@uwyo.edu
Education
M.S. in Natural Science, Natural Science Education, University of Wyoming, Laramie
Sheltered English Immersion (SEI) Teacher Endorsement, Massachusetts Department of Education
Massachusetts Initial 5-year teaching License: Middle Level Science and Math, Massachusetts Department of Education
B.A. in Anthropology with Spanish and Chemistry minors, Linfield College, McMinnville
Bio
I bring experience teaching in K-12 science classrooms, instructing place-based field education, and conducting ecological field science.  After completing a teaching residency program through MATCH Teacher Residency, I taught for three years at an alternative high school north of Boston. Throughout this time, my roles included science teacher of a variety of subjects, soccer and basketball coach, outdoor program coordinator, and science department chair. I While I gained much experience and learned a lot, I decided to continue my education and complete a Master's at Teton Science Schools and the University of Wyoming. My Master's research focused on the role of PD in supporting the implementation of critical thinking skills in the science classroom. I have continued to pursue research interests related to K-12 in-service science teachers through my current position. I support teacher understanding and implementation of the Wyoming State Science Content and Performance Standards (based on the Next Generation Science Standards). I have been working with the new science standards since 2014.
Service and Outreach
My position at the university is predominantly focused on K-12 in-service science teacher support, so much of my work involved outreach efforts. Through district contracts, grant support, and fee-based workshops, my colleagues and I engage in outreach activities to deepen teachers' and administrators understanding of A Framework for K-12 Science Education, the Next Generation Science Standards, and instruction that supports them. My service comes from extending these ideas to the university setting and other governmental (e.g., WY Game & Fish) and educational (e.g., Ecology Project International, Teton Science Schools) organizations.
Websites
Teaching
My teaching is primarily devoted to in-service science teacher education. I also give guest presentations for university courses, in-reach efforts, community entities, non-profit organizations, environmental education programs, government agencies. These presentations support instruction that aligns with the research on teaching and learning.
Research Interests
K-12 in-service science teacher professional development (PD)
Responsiveness in PD
A Framework for K-12 Science Education and the Next Generation Science Standards
Effects of responsive facilitation on teacher instruction
Use of vignettes as an assessment and growth tool for in-service teachers