Brady Foreman
Ph.D. Geology
Education History:
I obtained my B.A. from Macalester College in St. Paul, Minnesota in 2004 with a major in geology and my M.Sc. in geological sciences from the University of Michigan in Ann Arbor in 2007. Currently I am entering my 5th year at UW pursuing a Ph.D. in Geology.
Research Project:
I am interested in how climate change impacts depositional processes in rivers and floodplains on time-scales greater than 10,000 years. My dissertation research focuses on how rivers in northwest Wyoming and western Colorado responded to an abrupt global warming event that occurred approximately 55 million years ago called the Paleocene-Eocene Thermal Maximum.
 Why I chose UW for graduate education:
What drew me to UW for graduate education was the faculty. When I visited as a prospective Ph.D. student, I felt there was a strong collaborative and interdisciplinary atmosphere here filled with enthusiastic researchers.
 Current position and future goals:
I am a 5th year Ph.D. candidate in the Department of Geology and Geophysics. Currently, I am pursuing various postdoctoral research positions, but eventually hope to obtain a professorship at a research university.   
Advice for potential future students considering UW:
Make sure to visit! Sit in on classes, talk to current and former graduate students. Chat with additional faculty than just your prospective advisor. Graduate school is a big commitment and getting as much information as possible before making the decision is extremely important.
The Ancient Soil Horizons of Wyoming's Bighorn Basin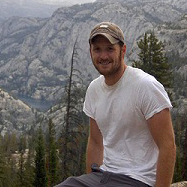 "The university is large enough to host an incredible diversity of scientific research, but it is also small enough so that faculty is familiar with one another and their respective research interests. This fosters a truly collegial atmosphere across campus that, if taken advantage of, can be extremely beneficial for graduate students as they pursue their degree, broaden their skill base, and search for employment."