Rowan Derrick
M.A. English
Education History: 
I got my bachelor's degree in English and graduated with honors from the University of New Mexico and studied film tech at Central New Mexico Community College before coming to the University of Wyoming to start work on my English master's degree.
Research: 
I am currently working on studying nuclear anxiety in text, particularly as it appears in video games.  I have been improving my understanding of early atomic literature and studying the effects of the atomic bomb, a project which has allowed me to visit Hiroshima to see how nuclear fears are portrayed in Japan, where many of our video games originate.
Why I chose UW for graduate education: 
I come from a history of UW graduates, and my family has always spoken positively about the University.  My mother graduated from the English program here, and enjoyed it very much, and I chose UW not only for family connections, but also because of the strength of the MA English program.
Current position and future goals: 
I am currently a second year MA and graduate assistant.  For next year, I will be looking both at PhD programs and job prospects.
Advice for potential future students considering UW: 
Ask questions - you have a whole university here to help you, and they're glad to do it.  Also... consider snow boots.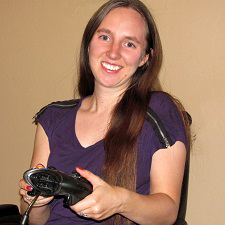 It's great that I just have to get right outside of town to go hiking, especially since I'm so busy. When I need a nature break, I don't have to plan a day-long expedition.