UW Police Department
Lost and Found
The UWPD picks up and stores found items from campus locations and stores them at an undisclosed location.  High traffic buildings (i.e. Union, Coe Library and the Classroom building) are scheduled for bi-monthly pickups, while remaining buildings are picked up on an as-needed basis.  All unclaimed property will be auctioned off annually in September.  
---
How To Report a Lost Item
We have several ways to report a lost item.  The easiest is to submit a lost report via the link below.  
Please click the banner below to submit an email to Lost and Found.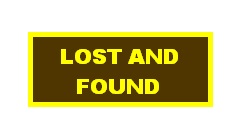 We will then contact you if your missing items are turned into our department. If an item has a name attached to it (USB, Driver's License, etc) an email will be sent to the UWYO email address available.  
---
Lost and Found Auction
The date of the 2018 Lost Property Auction is to be determined. Auction information is updated every August.