Case Manager Training
The Wyoming Department of Health, Home and Community Based Services (HCBS) Section has identified the development of case manager training as a priority activity to be implemented under recent American Rescue Plan Act (ARPA) funding. Signed into law in March of 2021 by President Biden, the plan provides funding for states to enhance, expand, or strengthen home and community-based services provided under state Medicaid programs.

The HCBS Section and Wyoming Institute for Disabilities will work with a team of case managers to develop a Wyoming case manager training. The purpose of this training it to build case manager capacity and increase their knowledge and skills, supporting the Wyoming Department of Health commitment to quality services to Wyoming families.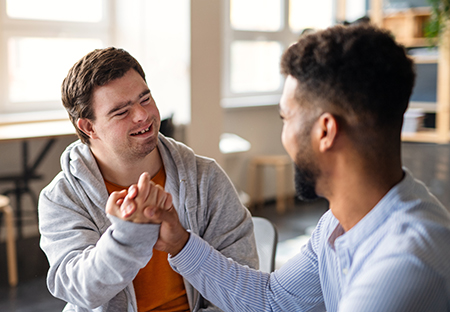 WIND hosted a community meeting in October of 2021 to get strategies and share successful approaches for the recruitment and retention of direct service providers in Wyoming.
The current difficulties in recruiting and retaining support professionals risk the ability to meet the service needs of individuals on the developmental disability waivers.
Individuals who participated in the forum include: waiver clients, direct support professionals, case managers, family members, advocates, policy makers and elected officials, interested community members, and state agency administrators.
A summary of what was learned at the community meetings is available.
---
To make this project successful, we are working with the Wyoming HCBS and a team of Wyoming case managers. The training is being developed based on identified gaps and best–practice in topics including person-centered planning, community engagement, and caseload management.   
Project Timeline:
Training Advisory Group
Currently, we are in the development phase of the training. The case manager advisory group began meeting in August, 2022. This group shapes the training curriculum and reviews the final training to ensure it is relevant and beneficial. Advisory members receive stipends for their participation.
State Survey
In June of 2022, a short survey was emailed to all case managers to provide input on the training topics and training modality. The survey results are being analyzed and will shape the training content.

Interviews
In June and July of 2022, we conducted 45–60 minute interviews with case managers, participants and family members receiving services. These interviews identified areas of strength and areas to focus content development. Case manager interviews are complete.
If you are a family member, caregiver or participant receiving services and interested in doing an interview please fill out the Case Manager Training Interest Form, and we will contact you to schedule an interview. Interviewees will receive $40 for participating in the interview.
Training launch/availability
In fall of 2022, we will pilot two training modules with a small group of case managers. Training will be available to all case managers in spring 2023.
Connect with us

If you are interested in staying up to date on the progress of the training, or participating in an interview please fill out the Case Manager Training Interest Form and select how you would like to be involved.