Online Educational Videos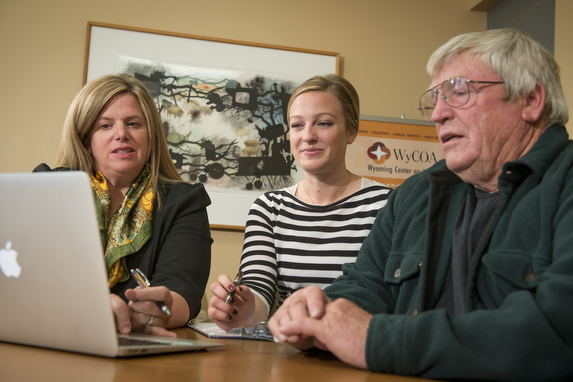 These online educational modules/videos are previously recorded WyCOA workshops, online training's, and webinars that were taught by experts in the field. PLEASE NOTE: Webinars are geared towards different audiences based on content. However, there is no limit to which modules you view! Please look for these guideline abbreviations:
(HP) Healthcare Professionals

(CG) Caregivers (family, lay or professional)
To get started, click on the link to view the module. Once you have watched the module, please make sure to fill out the accompanying Event Survey form for continuing education credit and overall evaluation feedback. If you have any questions about these modules please contact the Wyoming Center on Aging.
Notes:
If you are interested in receiving a WyCOA Certificate of Completion for modules you watch, please email WyCOA at wycoa@uwyo.edu. 

Look for the symbol to view our newest additions!

If you are working on the Dementia Care Certificate please refer to your WyoLearn login info sent via email

---
 I am interested in:
Alzheimer's Disease and Dementia

Topics include but are not limited to:

Future of Alzheimer Care: An Update on Current Research; He's Acting That Way Again! Building our Awareness about Dementia-related Behavior Changes; Dementia: Basics of Management and Treatment, AND MORE!

Topics include but are not limited to:

A discussion on Palliative Care for Healthcare Professionals.  Death Approaches: Panel Discussion, AND MORE!

Alzheimer's Disease and Caregiving

Topics include but are not limited to:

Caring for the Caregiver during the Holidays  Webinar Series 2020; Dementia and Your Changing Financial Abilities. How to Stay Involved and Plan for the Future. Caregiver Values in Action.  Aging in Place: Preferences, Problems and Possibilities.  Technology Tips for Caregivers: Making it Easier. Positive Communication with your Loved One, AND MORE!

Topics include but are not limited to:

Tech Support Fraud: What You Need to Know. Elder Abuse Rx.  Planning for Peace of Mind: Estate Planning and Other Important Documents. Understanding Medicare and Medicaid.  The Dynamics Involved in Elder Fraud, AND MORE!

Topics include but are not limited to:

Social Determinants of Health Webinar Series.  Older Adult Driver Safety - An Overview.  Live Fit, Age Well.  Aging, Health, and Driving: Screening and Assessment & Clinical Intervention and Conversations.  The Longevity Economy: Data Debunks Myths About Aging.  Healthy Aging & Resource Programs Panel Discussion, AND MORE!

Topics include but are not limited to:

Hoarding: Assessment, Action, Advocacy.  Evidenced Based Interventions for Anxiety in Older Adults.  Geriatric Depression: Assessment and Interventions, AND MORE!

Age and Dementia Friendly Topics

Topics include but are not limited to:

Building a Dementia Friendly Community.  Age Friendly and Dementia Friendly WY Projects Panel; AND MORE!

Topics include but are not limited to:

Opioids - The Good, The Bad and Everything In-between.  Dementia Medications-Updates & Current Trends, AND MORE!

Topics include but are not limited to:

Caring for our Older LGBT Adults.  Ethnogeriatrics: Implications for Clinical Practice. Historical Acceptance of Aging-Eastern Shoshone People.  Why Persons with Intellectual and Developmental Disabilities is an Important Topic.  Art for Life: Folk Arts, Aging, Health and Wellness; AND MORE!

Accessible Alzheimer's Disease Modules

(508 Compliant)