Dementia Resource Guides
FOR CAREGIVERS, FAMILIES, & FRIENDS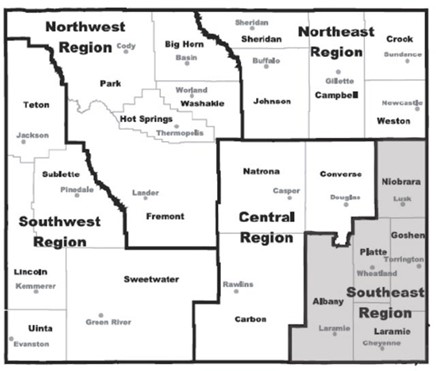 Caring for a person with Alzheimer's disease or another form of dementia can pose many challenges. It can be difficult to know when help is needed and where to turn. The Wyoming Center on Aging (WyCOA) provides this guide as a source of important information about dementia resources available to caregivers, families, and friends living in the state of Wyoming.
The WyCOA dementia resource guides represent the five regions of Wyoming and contain local resources specific to the region, as well as reputable national resources and statewide resources. These guides present user-friendly information that is particularly useful to individuals impacted by Alzheimer's disease.
We welcome your feedback regarding the usefulness of this guide. Please contact us if there is a resource or information that should be considered for future resource guides. For more information on programs in your area email wycoa@uwyo.edu or call (307) 766-2829.  Also download the Rack Card for larger distribution!
Click on each region to download the most recent version (including but not limited to each town mentioned).