Wyoming Grasshopper Information System, WGIS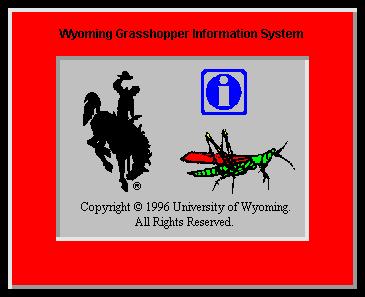 Acknowledgments
Kiana Zimmerman, John Larsen, Tim McNary, Dr. Jeff Lockwood, Dr. Robert Pfadt, Bruce Shambaugh, Scott Schell, and Dr. Robert Lavigne developed the Wyoming Grasshopper Information System.
I would like to thank the following people for testing the program:
Paul Anderson
Jim Berry
Kim Johnson
Tim McNary
Bruce Shambaugh
---
Background information on the WGIS database, WGISDAT, and the collection of species included in the database
Around 1988, USDA-APHIS-PPQ, CAPS, and the University of Wyoming developed a grasshopper species-based survey. The information is stored in a database called wgisdat. In 1997, there were over 30,000 records in the database. The database contains species and density information on grasshoppers and Mormon Crickets in Wyoming. A majority of the collections were taken between July 10th and August 20th. The rangeland species are well represented in the database because most of the surveys were on rangeland vegetation on the eastern side of the state. The scouts collected the grasshoppers using the sweep net method. The scouts stopped at all of the common data set sites and other sites if funding was available. There are approximately 200 common data set sites.

The information stored in the database can be helpful to the following areas of research:
Zoogeographic Studies
Studies of evolution and speciation
Taxonomic
Ecological insight
Structure of Grasshopper communities
Combinations of the above
To learn more about Potential Uses

Lockwood, J. A., T. J. McNary, et al. (1993). Distribution Atlas for Grasshoppers & the Mormon Cricket in Wyoming 1988 - 1992.
1988-1997 Survey Stops
---
Disclaimer and Other Important Information
The University of Wyoming is a State, non-profit educational institution and is distributing this software free of charge for educational purposes only. The University of Wyoming makes no warranties of any kind and shall have no liability or responsibility to the user of software with respect to any loss or damage caused or alleged to be caused directly or indirectly including, but not limited to interruption of service, loss of business or anticipatory profits or consequential damages resulting from use or operation of this software. Persons seeking admission, employment or access to programs of the University of Wyoming shall be considered without regard to race, color, national origin, sex, age, religion, political belief, handicap, or veteran status.
All of the below files are compressed, if you need a utility to zip and unzip files please see WinZip Home Page.
The Program - WGIS
WGIS is a 16 bit windows program written in Visual dBASE that allows the user to enter and view information on rangeland grasshopper species distribution (Township/range/section, latitude, and longitude), species complex, density, and number collected (males, females, total instars (after 1996 the instars were broken down into 1-7)). The program is not supported in any way. Therefore, please do not contact us on how to install or use the program. However, if you wish to make comments about the program please respond to Dr. Jeff Lockwood (lockwood@uwyo.edu) and put WGIS in the subject of your message.
To download:
If you are just interested in the database in dbf format (Does not include the program WGIS), it can be opened in any package that opens dbf files: for instance Excel, ArcView, dBASE and others.
The program WGIS and the database WGISDAT

Version A
This version allows you to enter and view records
WGIS Program and Database Disk1
Disk 2
Disk 3
Disk 4
Version B
This version allows you to only view records
WGIS Program and Database Disk 1
Disk 2
Disk 3
Disk 4
The code for the program.
---
WGISDAT ArcView Shape files (GIS)
You can, if you have ArcView or some other program that reads shape file, download the shapefiles for the complete set of records or 1997 records.
If you are interested in a free viewer that will allow you to view the above shapefiles without having ArcView please see ArcExplorer.
If you use a different GIS software package you should be able to open or import wgisdat.dbf.