Doctoral Neuroscience Program
the uw doctoral neuroscience program:
preparing students for future careers as independent scientists & educators
The University of Wyoming, Laramie offers graduate training in neuroscience leading to the Ph.D degree. The purpose is to prepare students for future careers as independent scientists, and educators. The program is interdepartmental. Faculty participants utilize diverse model species to study questions that utilize basic to translational research approaches: areas represented include neural development, behavior, learning and memory, sensory biology (link), addiction, regeneration, and neurodegeneration.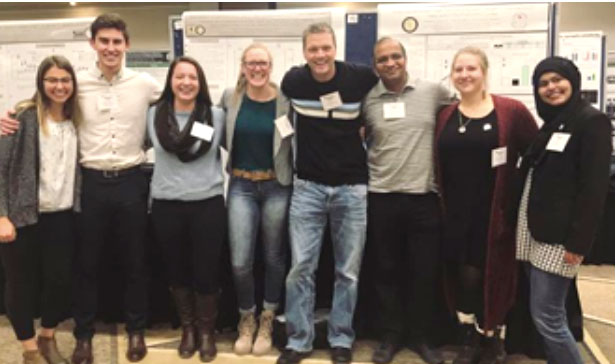 ---

Neural activity in a Swamp swallow during singing and listening
Dr. Prather's lab studies uses combined behavioral, anatomical, electrophysiological, optogenetic and neuroimaging approaches to investigate how the brain enables us to learn. Presently, his studies are focused on the neural mechanisms that underlie how male birds learn and maintain their songs, and how female birds evaluate song quality to choose their mates.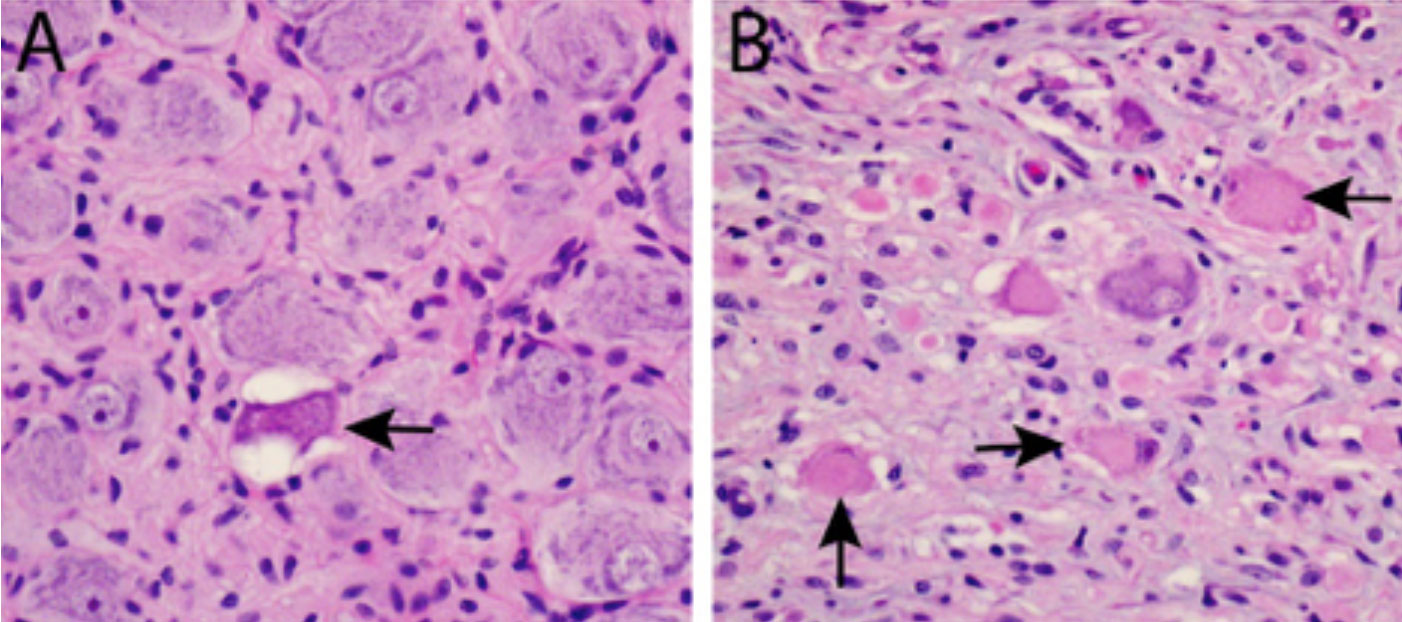 Neuroinflammation and neurodegeneration
Coeliac ganglia in two dogs that died from chronic (A) and acute (B) panautonomic degeneration (spontaneous disease in pet animals). Dr. Fox's laboratory studies mechanisms of neurodegeneration. The main focus of his research is the role of persistent latent CNS infections in promoting neuroinflammation and neurodegeneration in Huntington's disease and brain aging. This work is a collaboration with Dr. Gigley in the department of molecular biology. As illustrated above, he also studies spontaneous dysautonomias in domestic animals.

Neural encoding mechanisms in the prefrontal cortex
A mouse brain expressing the calcium indicator GCamp6f in medial prefrontal cortex (mPFC) is implanted with GRIN lens and mounted with a miniScope. B. Calcium imaging recorded through a miniScope from the mPFC of a freely behaving mouse. C. Representative calcium traces from twenty regions of interest. Dr. Li's lab studies how neural activity carries information to guide behavior. The prefrontal cortex plays an essential role in planning, reasoning, decision-making, and problem-solving. Disruptions in the PFC neural circuitry are associated with behavioral abnormalities in a variety of brain disorders. Dr. Li uses miniScope in-vivo calcium imaging in freely-behaving mice, in combination with optogenetics and viral-genetic tools, to study neural circuit mechanisms of depression, autism, and dementia.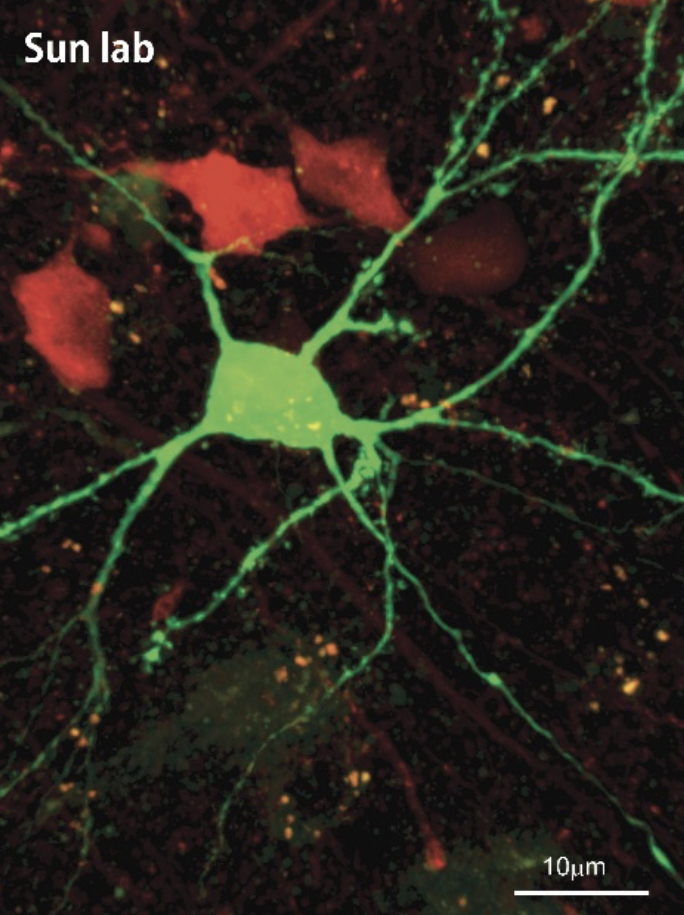 Mechanisms of brain development
Photomicrograph of an intracellularly neurobiotin-filled glutamatergic neuron (green) surrounded by genetically labeled GABAergic parvalbumin-expressing interneurons (red, tdtomato) in a mouse barrel cortex layer IV. This 2D image was a maximum projection image derived from a 3-D z-stack confocal image acquired by Dr. Xinjun Wang, a neuroscience PhD graduate from Dr. Sun's lab. The Sun lab combines mouse genetics, imaging and electrophysiology to understand the mechanisms underlying development and related developmental brain disorders.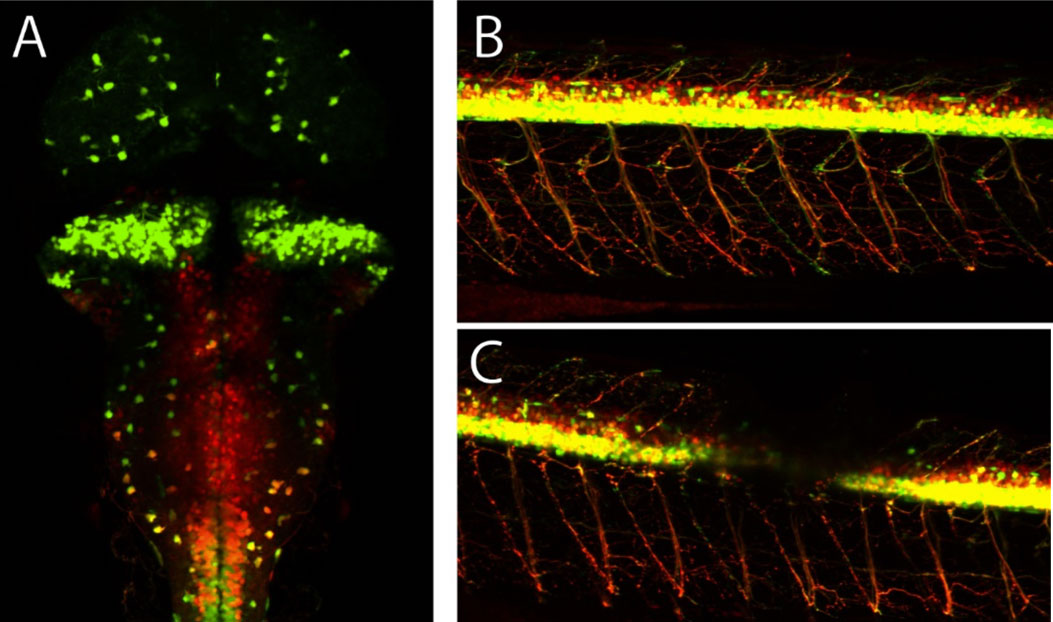 Spinal cord injury in Zebra fish model
Zebrafish brain illustrating upper motor neurons (green) and oligodendrocyte precursor cells (red). Spinal cord neuronal tracts (green) and migrating oligodendrocyte precursor cells (red) and innervating motor neurons (red) in in normal zebrafish (B) and following spinal trauma (C). Zebrafish have a remarkable regenerative capability making them an excellent model to study CNS injury and neurodegeneration. Dr. Mruk's lab studies the mechanisms of spinal cord regeneration following injury. We use a combination of chemical probes, genetic manipulation, microscopy, and electrophysiology to understand how locomotion returns and what genetics factors govern this process.
---
ANNOUNCEMENT:
The doctoral neuroscience graduate program is now accepting applicants for a Fall 2022 start. We are seeking motivated individuals that are passionate about developing a career in the neurosciences as independent scientists and instructors. Neuroscience faculty have research programs in neurodevelopment, sensory biology, chronic pain, communication, addiction, spinal cord injury, epilepsy, neurodegeneration, decision making, and other areas. Please see "About the Program" for more information and contact the program director if there are questions about this opportunity. 
---
SEMINARS:
Sensory Biology Center Neurobiology Seminar Series - Fall 2021
---
Recent faculty publications:
Weiguo Yang, Anthony Williams, Qian-Quan Sun* (2021). Circuit Mechanisms Underlying Epileptogenesis in a Mouse Model of Focal Cortical Malformation. Current Biology.  31, 1–12. https://doi.org/10.1016/j.cub.2020.10.029,  
Free article link https://authors.elsevier.com/a/1c17C3QW8Ru9h7