Department of Psychology
University of Wyoming
Dept. 3415
1000 E University Ave
Laramie, WY 82071
Phone: (307) 766-6303
Fax: (307) 766-2926
Email:
psyc.uw@uwyo.edu
An Education for a Lifetime
The University of Wyoming's Department of Psychology is your first stop to creating a life-long career in social and behavioral sciences.  We strive to provide students with training in psychological theory and methods in an atmosphere of intellectual rigor and technical competence. To this end, we promote an understanding of behavior, emotion, and cognition through our strong commitment to excellence in research, teaching, and service. 
We offer  undergraduate and graduate degrees,  opportunities for students to work with our exceptional faculty, and K-12 educators and students can get involved in science fair projects.  We are home to the UW Psychology Clinic, and multiple research laboratories. 
Please feel free to contact us for any additional information; we are happy to assist in any way we can!
> Click here to access faculty office hours.
Dive Deeper
Information for the UW Psychology Clinic, including hours, services and contact information.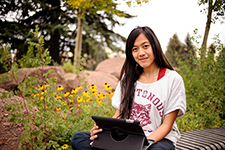 Learn more about earning a graduate degree from the UW Psychology department! Our diverse faculty and research programs allow you to choose your path!