Virtual Exhibits
In Pursuit of Equality: Thyra Thomson
 Introduction | Part 1 | Part 2 | Part 3 | Part 4 | Part 5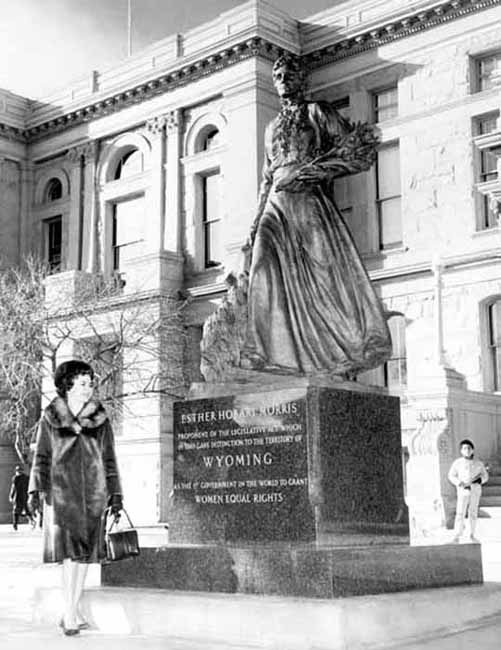 Photo: Thyra Thomson admiring the statue of Wyoming suffragist, Esther Hobart Morris, ca 1960s. Thyra Thomson papers.
Nearly forty years after Nellie Tayloe Ross' two years as governor, Republican Thyra Thomson announced her candidacy for Secretary of State. Similar to Mrs. Ross, Mrs. Thomson was the widow of a popular Wyoming politician, Congressman Keith Thomson, and was able to transfer the admiration for her late husband into an electoral victory.
However, unlike Governor Ross, Mrs. Thomson was able to win re-election on five separate occasions and ultimately served as Wyoming's Secretary of State from 1963 to 1987, when she decided to retire from public life. While serving as Secretary of State, Mrs. Thomson witnessed the continuing presence of gender discrimination in the Equality State and became a fierce advocate for equal rights.
When the Wyoming State Senate deliberated the Equal Rights Amendment (ERA) in 1973, Secretary of State Thomson became one of the most influential voices in the heated debate. Mrs. Thomson argued that despite Wyoming's image as the Equality State, gender discrimination was still prevalent in Wyoming and American society. Due in large part to Mrs. Thomson's passion and persistence, the Wyoming Senate ratified the ERA by a vote of seventeen to twelve.
During the next decade, as the ERA continued to be debated across the nation, Secretary of State Thomson continued her advocacy for the amendment at the national level. While ultimately the ERA failed to be adopted into the U.S. Constitution, Mrs. Thomson's continued work for the amendment and other equality issues helped to make her a respected state and national figure.