Our Research
" ...the most difficult portion of the analytical process is that involving isolation of the desired constituent in a measurable state. The actual process of measurement is simple."

Ernest B. Sandell and Phillip J. Elving, Methods of Analytical Chemistry, Chapter 1 (p. 7) in Treatise on Analytical Chemistry Part I Theory and Practice; I. M. Kolthoff and Phillip J. Elving (Eds.), 1959
Funding for this research has been provided by:
---
Analytical and Bioanalytical Chemistry/Mass Spectrometry
Protein Thermal Decomposition/Digestion (TDD): site-specific protein digestion at Asp and Cys in 10 sec
Our laboratory developed a technique for the rapid (10-30 sec) digestion of proteins based on their controlled thermal degradation.  Our approach is able to perform site-specific cleavages at both Asp and Cys with minimum side reactions and modifications.  This Thermal Decomposition/Digestion (TDD) process can be performed on solid samples and current efforts are focusing on the implementation of this technique for the analysis of biological tissue samples (i.e., imaging MALDI-MS/MS).
Read our articles in J. Am. Soc. Mass Spectrom. (2011) 22: 1926-1940 and J. Anal. Appl. Pyrolysis (2017)
Imaging MALDI-MS and Thermal Decomposition/Digestion (TDD): towards on-tissue digestion and on-tissue protein identification
Proof-of-principle imaging MALDI-MS of the TDD products of lysozyme: Detected peptides are from site-specific cleavages at Asp and Cys.  Images of the spatial distribution of these peptide products are shown below in a proof-of-principle experiment demonstrating applicability of this approach for on-tissue protein id and tissue imaging by MALDI-MS. The solvent-free nature of the TDD process prevents product delocalization, as is the case in the standard protocol using on-tissue trypsin digest. Read our article in Analytical Chem. (2017).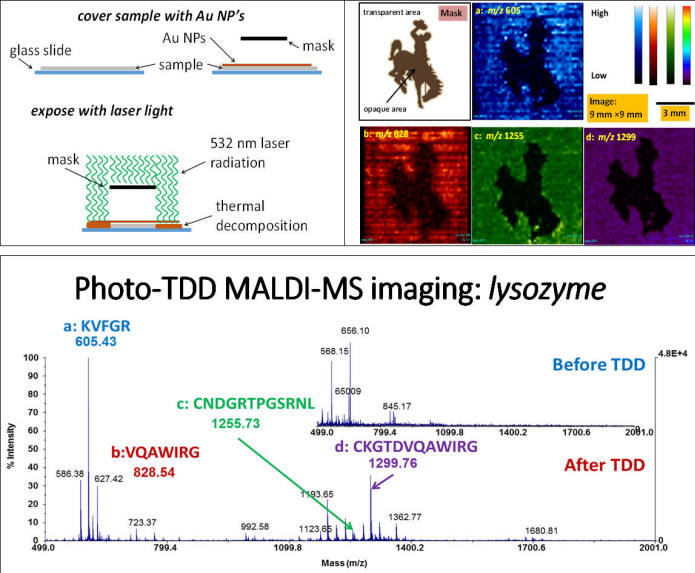 Metabolomics/Lipidomics
Our laboratory implements several MS techniques (GC-MS, GC-MS/MS, and LC offline MALDI-MS/MS) for the analysis of lipids, carbohydrates and metabolites in microorganisms, bees and soil.  Recent work from our laboratory identified several hydroxy-fatty acids (some believed to be associated with lipid A) and polyunsaturated fatty acids in the microorganism Gemmata obscuriglobus. (Project in collaboration with Dr. Naomi Ward; Read the article in J. Bacteriology, 2016, 198, 221-236 journal link).
Increasing the reproducibility of intact bacteria MALDI-MS profiling
The goal of this project is the development of a safe, automated and highly reproducible technique to prepare microbial samples for MALDI-MS profiling.  By implementing a spray-deposition method, we have identified that the largest source of variation comes from the surface heterogeneity of the MALDI matrix.
Read the article in Analytical Chem. 2012, 84, 9971-9980

Developing New Tools for High Throughput Proteomics using Non-Enzymatic Protein Digestion Methods:
Online Microwave D-Cleavage: cleavage at aspartic acid and disulfide bonds
Microwave D-cleavage: Our laboratory pioneered the online microwave-heated site-specific acid hydrolysis at aspartic acid (C-terminus) and disulfide bond cleavage in proteins.  The microwave D-cleavage technique allows the simultaneous digestion at aspartic acid and disulfide bonds in 5 minutes and couples online with LC-ESI-MS/MS for data-dependent analysis.  This technique successfully detected and identified all proteins tested as well as proteins in an E. coli cell lysate at a high confidence level. Read the article in J. Proteome Res. (2008) 7: 1012-1026

We are currently focusing on the development of a fully integrated sample preparation technique for proteomics (a.k.a., proteomic reactor) combining microwave D-cleavage with electrochem WY-cleavage to digest proteins online in under 6 min.  The resulting peptides are well suited for CID MS/MS analysis since they average about 10 amino acids in length (tryptic peptides average about 9 amino acids in length). Read the article in Analytical Chem. (2011) 83: 35
Other projects currently under way in our laboratory:
Renewable Energy Resources and Environmental MS
Broad spectrum analysis of coal samples: rapid extraction methods; GC-MS characterization and analysis, Read article in Energy & Fuels (2014)

Metabolomics
Lipidomics: GC-MS and LC-offline MALDI-MS/MS
instrumentation development: continuous-flow liquid microsampling for surface analysis
Research Collaborators
Erika Belmont, Dept. of Mechanical Eng., University of Wyoming
Wei Guo, Dept. of Animal Sciences, University of Wyoming
Naomi Ward, Molecular Biology, University of Wyoming
Katie Li, Dept. of Chemical Eng., University of Wyoming
Linda van Diepen, Dept. of Ecosystem Science and Management, University of Wyoming
Michael Dillon, Dept. Zoology & Physiology/Program in Ecology, University of Wyoming
Debashis Dutta,  Dept. of Chemistry, University of Wyoming
Scott McLuckey, Dept. of Chemistry, Purdue University
Jessica Prenni, Colorado State University
John Belisle, Colorado State University
Claudia Molins, Centers for Disease Control and Prevention (Ft. Collins, CO)
Eva Ferre-Pikal,  Dept. of Electrical Eng., University of Wyoming
Vladimir Alvarado,  Dept. of Chemical Eng., University of Wyoming
John Oakey, Dept. of Chemical Eng., University of Wyoming
David Bagley,  Dept. of Chemical Eng., University of Wyoming
Michael Urynowicz,  Dept. of Environmental Sciences, University of Wyoming
Junko Marr,  Dept. of Environmental Sciences, Colorado School of Mines
Kent Voorhees, Dept. of Chemistry, Colorado School of Mines
Donald L. Jarvis, Molecular Biology, University of Wyoming
Mark Gomelsky, Molecular Biology, University of Wyoming
Ami Wangeline, LCCC, Cheyenne, WY
Gregory Brown, Botany Dept., University of Wyoming
Steve Wolf, Statistics Dept., University of Wyoming