Chemical and Petroleum
Engineering, Dept. 3295
1000 E. University Ave.
Laramie, WY 82071
Phone: (307)766-2500
Email:
chpe.info@uwyo.edu
Department of Chemical and Petroleum Engineering
Welcome to the Department of Chemical and Petroleum Engineering at the University of Wyoming! Our department, consisting of 29 faculty, 75 graduate students and approximately 500 undergraduate students from all over the world. 
We offer courses that prepare students for careers in chemical and petroleum fields, our state of the art equipment provides higher levels of research capabilities, and our award-winning faculty create innovative and rigorous research opportunities for graduate students.
Department News
The University of Wyoming and Baker Hughes Inc., a global oil field services company, today (Monday) announced a $1 million grant to support research that will help ensure the future of Wyoming's economy.
Baker Hughes Inc. has previously supported oil and gas research and the petroleum engineering program at UW. A recent gift went to the High Bay Research Facility, a state-of-the-art facility with flexible laboratory space that is under construction. A past gift, of an X-ray defractometer and funding, supported student drilling fluids laboratories. [More]
From Professional Skating to Academics, UW Student Finds Success
Doherty says traveling the world, and those countless hours of ice skating lessons/training, have helped her academically. Her success on and off the ice and in the classroom have driven her to succeed.Brenna is a UW transfer junior majoring in petroleum engineering and computer science,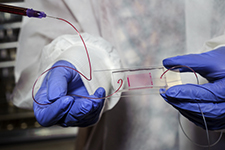 Learn more about Chemical and Petroleum Engineering's innovative research programs.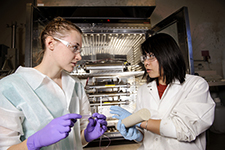 Explore degree offerings for Masters and Doctoral degrees in Chemical and Petroleum Engineering