CHEMICAL and Biomedical ENGINEERING
COLLEGE OF ENGINEERING AND Physical Sciences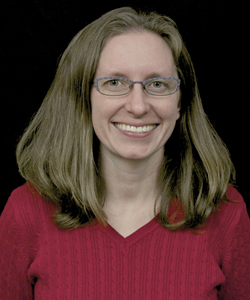 Experience:
Lead Scientist, Waste & Environmental Management, Western Research Institute, 2012-2014
Postdoctoral Scientist, Photobiology, National Renewable Energy Laboratory, 2010-2011
PhD. Biochemistry & Molecular Biophysics, California Institute of Technology, 2001-2009
Specialization:
Synthetic biology and genetic engineering of non-model bacteria for the production of fuels and chemicals.
Summary of Research Activities:
My research uses molecular biology techniques, such as PCR, cloning, chromatography, western blot, etc., to engineer bacteria and use them as molecular machines for the production of biofuels and chemicals. My laboratory uses non-model bacteria, which have the ability to use different feedstocks that are inaccessible to the model bacterium E. coli, such as syngas (synthesis gas, a mix of CO, CO2, and H2) or carbon dioxide present in flue gas. Photosynthetic bacteria that can use these feedstocks as well as light as an energy source are of particular interest.
An example of a typical research project in my lab is the photosynthetic production of isoprene from syngas. Isoprene is the monomer used for the production of synthetic rubber and can also be used for the synthesis of fuels and chemicals. Currently, this volatile hydrocarbon is generated through naptha cracking and as a byproduct of ethylene production. Isoprene is also a plant hormone that is naturally made when plants are stressed. While this compound can be relatively abundant in nature, purification of this volatile hydrocarbon after emission is not economical.
Gasification can be used to convert many recalcitrant carbon sources, such as coal or waste biomass, into the more biologically available syngas (synthesis gas). Microorganisms that utilize syngas can be engineered to produce isoprene by the introduction of a gene encoding an enzyme that uses a natural substrate in the cell to produce isoprene. Further genetic modifications can be made to enhance isoprene production by directing carbon flux towards isoprene. Engineering photosynthetic microorganisms for isoprene production allows light to be used as an additional energy source, which should generate higher yields than when syngas is used as both the carbon and energy source.
Other projects include the production of H2 from lignocellulosic material and the production of hydrocarbons in cyanobacteria.
Publications and Patents:
Dr. Wawrousek has several pending patents.
K. WAWROUSEK, S. Noble, S. Swanson, C. Eckert, J. Yu, P.-C. Maness, "RcoM Regulates Anaerobic CO Metabolism in Rubrivivax gelatinosus CBS." (in preparation)
S. Noble, K. WAWROUSEK, C. Eckert, J. Korlach, J. Chen, J. Yu, P.-C. Maness, "Genome Annotation Provides Insight into Carbon Monoxide and Hydrogen Metabolism in Rubrivivax gelatinosus CBS." (submitted)
A. Bland, T. Zhang, K. WAWROUSEK, "WRI's CAT Process: Development and Deployment of Clean Synthetic Transportation Fuels Via Carbon Emissions Capture/Re-Use Technology." American Coal. Jan. 2013.
P. Hu, J. Lang, K. WAWROUSEK, J. Yu, P.-C. Maness, J. Chen, "Draft Genome Sequence of Rubrivivax gelatinosus CBS." J. Bacteriol. 2012 194(12):3262.
D. Carrieri, K. WAWROUSEK, C. Eckert, J. Yu, P.-C. Maness, "The Role of the Bidirectional Hydrogenase in Cyanobacteria." Bioresource Technology. 2011 15;9(6):1156-66.
K. WAWROUSEK, B.K. Fortini, P. Polaczek, L. Chen, Q. Liu, W.G. Dunphy, J.L. Campbell, "Xenopus DNA2 is a Helicase/Nuclease that is Found in Complexes with Replication Proteins And-1/Ctf4 and Mcm10 and DSB Response Proteins Nbs1 and ATM." Cell Cycle. 2010 102(18):8368-77.