CHEMICAL ENGINEERING
COLLEGE OF ENGINEERING AND APPLIED SCIENCE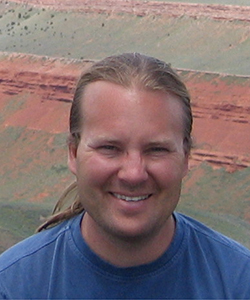 Education:
Ph.D. Chemical Engineering, 2005, Columbia University
M.E. Biomedical Engineering, 1994, University of Virginia
B.S. Chemical Engineering, 1992, Lehigh University
Specialization: Biointerfaces, Nanomaterials, Biosensors, Biomaterials
Biointerfacial Engineering Research Site
Summary of Research Activities
My research focus is to develop technologies to create, characterize, and apply biointerfaces to: generate biosensors for DNA, protein and cell detection; develop biomaterials for tissue regeneration and drug delivery; and develop enzyme immobilization schemes for improved activity in biofuel cells and other immobilized enzyme systems. Biosensors will enable rapid diagnostic screening of patients for pathogenic and genetic diseases, enable rapid, onsite food and water quality testing, and provide early warning of biowarfare agents in military and homeland defense. Understanding of biointerfaces is integral to the design of biomaterial substrates for eliciting responses from living systems for tissue regeneration, the integration of implantable devices and the control of drug delivery.
Selected Publications:
Zhang, H, Harpster, MH, Wison, WC,

 

Johnson, PA, Surface-enhanced Raman Scattering Detection of DNAs Derived from Virus Genomes Using Au-coated Paramagnetic Nanoparticles, Langmuir, 28 (8): 4030–4037 (2012).
Zhang, H, Harpster, MH, Park, HJ, Wilson, WC,

 

Johnson, PA, Surface-Enhanced Raman Scattering Detection of DNA Derived from the West Nile Virus Genome Using Magnetic Capture of Raman-Active Gold Nanoparticles, Analytical Chemistry 83: 254-260 (2011).
Park, HJ, McConnell, JT, Boddohi, S, Kipper, MJ, and

 

Johnson, PA, Synthesis and characterization of enzyme–magnetic nanoparticle complexes: effect of size on activity and recovery, Colloids and Surfaces B: Biointerfaces 83 (2): 198-203 (2011).
Neng, J, Harpster MH, Zhang H, Mecham JO, Wilson WC,

 

Johnson, PA. A versatile SERS-based immunoassay for immunoglobulin detection using antigen-coated gold nanoparticles and malachite green conjugated protein A/G, Biosensors and Bioelectronics 26 (3):1009-1525 (2010).
Harpster, M, Zhang, H, Sankara-Warrier, AK, Ray, BH, Ward, TR, Kollmar, JP, Carron, KT, Mecham, JO, Corcoran, RC, Wilson, WC, and

 

Johnson, PA, SERS detection of indirect viral DNA capture using colloidal gold and methylene blue as a Raman label, Biosensors and Bioelectronics 25 (4): 674-681 (2009).