Our research focuses on sustainable geotechnical aspects of highway and energy infrastructure. The continuous depletion of our natural resources for energy and deterioration of our infrastructure motivate our research group to advance current technology with the consideration of sustainability. Our research through the understanding of many fundamental geotechnical problems associated with sustainability will improve our highway and energy infrastructure. Our research projects include foundation engineering, soil-structure interaction, pavement foundation, bridge scour, soil & rock mechanics, slope engineering, geotechnical reliability theory, site investigations, underground structures and pipes, geothermal energy, carbon sequestration, intelligent compaction, and approach slab settlement mitigation. Some research works are highlighted as follows:
---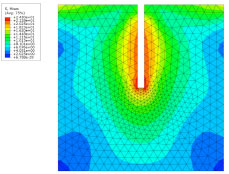 Foundation Engineering
Our foundation system for highway infrastructure can be optimized by accounting for the potential increase in foundation resistance as a function of time known as foundation setup. This phenomenon is primarily caused by the consolidation of soil surrounding the foundation. However, methods are currently not available to accurately predict foundation setup. Our research focuses on understanding this soil-structural interaction problem through experimental and computational research works.
---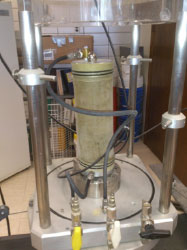 Pavement Foundation
The performance of our highway pavement can be improved through research works conducted by the research team. One of the research focuses is on characterizing representative, local material properties for unbound base and subgrade layers to insure a comprehensive Mechanistic Empirical Pavement Design Guide (MEPDG) implementation in Wyoming. Representative material properties are characterized for various local geological, soil, traffic, climate, and material conditions to facilitate the full MEPDG implementation and to better predict pavement performance. This study concentrates on determining material characteristics for layers underneath Plant Mix Pavement. A second research project investigates the implementation of current intelligent compaction technology on subgrade and pavement compaction in Wyoming. The study evaluates the advantages and challenges with the implementation of the intelligent compaction for production compaction operations as well as provides a foundation of knowledge for developing guidelines/specifications.
---
Bridge Scour
Bridge scour is the most common cause of bridge failure at waterway crossings in the United States. Bridge abutment failure involves combined geotechnical and hydraulic processes, interacting to erode the compacted earth fill typically forming abutments and their approach embankments. Our research focuses on conducting a series of flume experiments to investigate the effect of the geotechnical properties of spill-slope soil on the extent, depth, and rate of abutment scour. Computational analysis is being performed to simulate the scour effects observed in the experiments.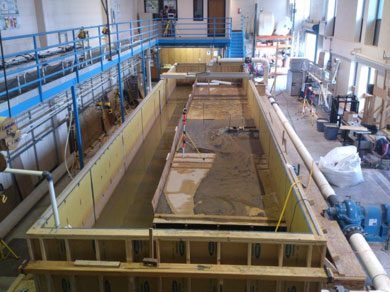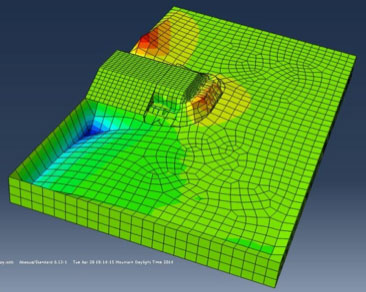 ---
Carbon Sequestration
With the increasing concern with CO2 emission leading to global warming, geologic carbon sequestration has been studied to permanently, reliably and economically store CO2 in potential rock reservoirs. The research investigates the changes in rock properties at pre- and post-CO2 injection. Rock plugs were extracted about 14,000 ft deep from the Rock Spring Uplift formation in Wyoming. Geomechanical experiments are being conducted using a servo-controlled triaxial testing system GCTS RTR-1500 at the University of Wyoming to determine the effect of CO2 on the mechanical properties of rock core plugs. The research involves collaborative effort of multidisciplinary teams with backgrounds in geology, geochemistry, geophysics, petroleum engineering and geotechnical engineering.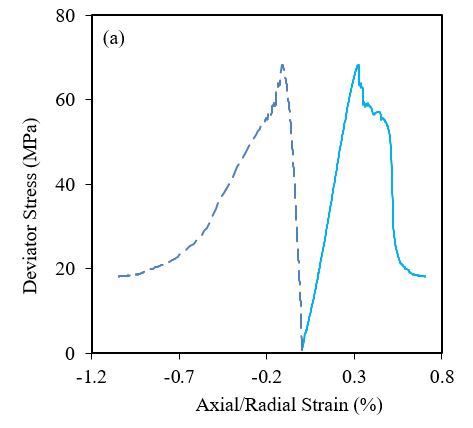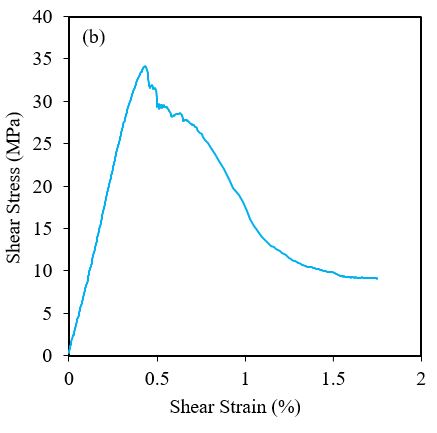 ---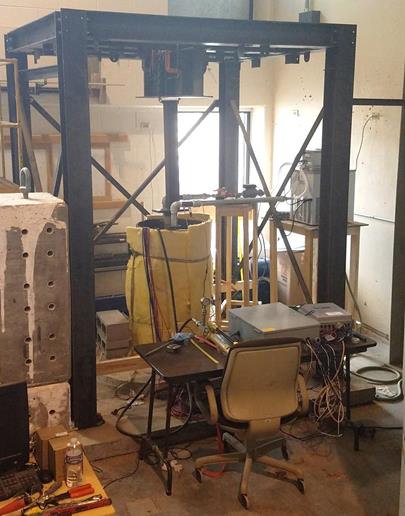 Geothermal Energy
With the growing interest in alternative energy resources, geothermal energy has attracted more research attentions, especially in the west region of the United States, where many abundant geothermal resources are yet to be explored. Geothermal energy is gaining more supports throughout the world, because it is an affordable and environmentally friendly source of heat. Enhanced geothermal system (EGS) is a man-made geothermal reservoir with hot dry rock and insufficient or little natural permeability or fluid saturation. Fluid is normally injected into the geothermal reservoir through hydraulic stimulation or fracturing. The research objective is to develop a more cost-effective laboratory-scale experimental setup than a full-scale field system coupled with computational studies to understand the effects of temperature alteration on 1) the thermal-hydro-mechanical interaction between a solid and fluid, and 2) the wellbore stability as a result of geothermal energy extraction.