Sustainable Geotechnics in Highway and Energy Infrastructure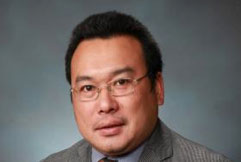 Kam Ng obtained all three degrees (BS, MS and PhD) in Civil Engineering from Iowa State University, Ames, IA. Prior to his PhD study in 2008, he had four-year consulting and six-year construction experiences. He has completed the design of twenty-four building projects and seven construction contracts. He developed the Load and Resistance Factor Design (LRFD) procedures for driven piles and drilled shafts for the Iowa Department of Transportation. One of his most significant research contributions is the investigation and incorporation of pile setup into the LRFD procedure. His research has been published in several journals, such as the ASCE Geotechnical and Geoenvironmental Engineering Journal. He received the 2012 Soil Mechanics Best Paper Award from the Transportation Research Board and the 2013 Young Professor Paper Award, runner-up, from the Deep Foundation Institute (DFI). He is a Professional Engineering registered with the state of Wyoming.
Kam Ng's research focuses on sustainable geotechnical aspects of highway and energy infrastructure, particularly foundation engineering, pavement foundation, abutment scour, soil/rock mechanics, geothermal energy, carbon sequestration, and slope engineering. An active research group is currently working on these research areas. Some highlighted research projects are 1) geothermal energy; 2) pile foundation on rock; 3) interaction of hydraulic and geotechnical processes on abutment scour; 4) mechanistic-empirical pavement design guide; 5) intelligent compaction, and 6) carbon sequestration.
---
Contact us today
Kam Ng, Ph.D., P.E.
Associate Professor
University of Wyoming
Department of Civil & Architectural Engineering, Dept. 3295
1000 E. University Ave., Laramie, WY 82071-2000
Office Phone: (307) 766-4388
Fax: (307) 766-2221
Email: kng1@uwyo.edu