Professional Writing Minor Internship
Students in the Professional Writing Minor have the option of taking ENGL 4970, the Professional Writing Internship. This is a great way to build your résumé while you are still in school. As a former professional writing intern explains, the internship experience can create a great "…foundation for a potential job, even a long-term career." An internship will give you a better understanding of the practical applications of professional writing, recognizable work experience in a professional writing area of your choice, and relationships with a network of professionals who can give you a competitive edge.
Internship Responsibilities
Each professional writing internship includes both academic and professional assignments:
The academic assignments help ensure interns are getting the support they need as they learn valuable professional writing skills. These assignments include an internship proposal, weekly journals, periodic meetings with the internship coordinator, a mid-term report, and a final portfolio.
The professional responsibilities will depend on the tasks your employer assigns to you and can vary from internship to internship. These tasks will revolve around applying the skills and strategies you have been learning through your minor coursework.
Course Prerequisites
In order to enroll in the internship (ENG 4970), you must have taken:

The foundations course:
ENGL 2035: Writing for Public Forums

One or more of:
ENGL 4010: Technical Writing
ENGL 4020: Editing for Publications
ENGL 4050: Magazine Writing
ENGL 4075: Writing for Non-Profits

The internship is best suited for students who have already completed a sizeable portion of the professional writing minor requirements.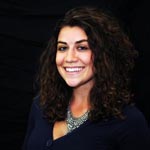 UW alum Sara DiRienzo completed her internship course in the summer of 2009. Her internship work led directly into her current full-time job with the Wyoming Institute for Disabilities (WIND). Sara found that her internship was a great place to practice her skills from the minor, while furthering her professional career: "It's not like in a classroom, where you get someone else's paper and have to do a peer-edit. When someone gives you something and says, `I need you to edit this because I'm sending it to 500 schoolteachers tomorrow,' you're going to think about it. You're going to open up your book and say 'Is that correct?' It (the professional writing minor) helped me build a strong foundation of knowledge with the resources made available in those classes."