Ecosystem Science and Management
College of Agriculture and Natural Resources
Reclamation/Restoration Ecology Graduate Certificate
The Reclamation/Restoration Ecology (RRE) graduate certificate (check sheet) prepares the student to use basic and applied ecological concepts to reclaim and/or restore processes and functions to disturbed ecosystems. Reclamation and/or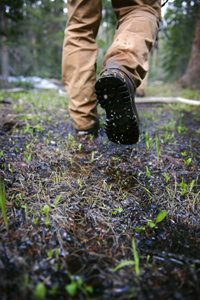 restoration of disturbed ecosystems requires an understanding of the edaphic, biotic, hydrologic, geologic, and topographic factors comprising these ecosystems, including the complex interrelationships that support and perpetuate ecosystem function. The graduate certificate will be granted to students who have completed a B.S. in an appropriate science-oriented discipline and are currently enrolled in an M.S. or Ph.D. program.
Certificate Requirements
The graduate certificate will also be available to professionals working in reclamation/restoration oriented fields seeking to upgrade their training in reclamation and restoration ecology. Those interested in the graduate certificate will be required to complete courses in the areas listed below as well as write a synopsis paper with a formal presentation advertised as an open forum seminar.
This certificate requires 16 hours of courses in agroecology, entomology, rangeland ecology and watershed management, renewable resources, and soil science. 
To claim this certificate:
Discuss with your advisor the details of your coursework.
Complete the Change of Major form - this will have a section for adding a minor
Submit the completed, signed form to the Office of the Registrar
Wyoming Reclamation and Restoration Center >>
---
The Wyoming Reclamation and Restoration Center is a Gainful Employment program, for further information please follow the link to the University of Wyoming Gainful Employment website.