Management & Marketing
1000 E University Avenue
Dept 3275
Laramie, WY 82071
Phone: (307) 766-3444
Email:
tmazur@uwyo.edu
Business Ethics Education
As one of its three core competencies in ethics, entrepreneurship, and sustainable business practices, the University of Wyoming College of Business launched its current Business Ethics program in 2005 under the guidance of Professors O.C. and Linda Ferrell.  Endowed by the Daniels Fund, the program is a statewide initiative that draws on and reinforces Wyoming's existing reputation as a highly ethical place in which to do business.  The Business Ethics program advances research and teaching regionally and nationally via the Daniels Fund Ethics Consortium of eight universities across the Rocky Mountain West.
Business Ethics is led by the Bill Daniels Chair of Business Ethics, Richard C. McGinity.  A graduate of Princeton University and Harvard Business School, Dr. McGinity has extensive practical experience in entrepreneurial and corporate financial transactions, as well as in corporate governance from his service on the boards of numerous privately owned, publicly traded, and tax exempt enterprises.   He teaches undergraduate and MBA courses that emphasize management of ethical risk as a strategic imperative of all business enterprises, both for-profit and tax exempt.  He collaborates with colleagues throughout the College via an Ethics Task Force of members representing all departments, and with individual colleagues in other colleges across the University.  Beyond Wyoming, he serves as one of eight Initiative Leaders of the Daniels Fund Ethics Consortium.
The College believes that exposing students to "real world" decision situations and interactions with senior business and government decision makers, as well as integrating ethical decision making methods throughout the business curriculum, are essential for students as they prepare to assume roles in today's fast-paced, globalized business world. Wyoming businesses, community colleges, and NGO's use the program as a business ethics and social responsibility resource, while providing living examples of ethical decision making challenges in return.
Daniels Fund Ethics Initiative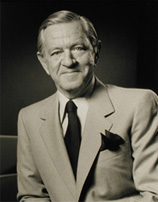 The University of Wyoming is one of eight universities that participate in the Daniels Fund Ethics Initiative. The primary objective of the Daniels Fund Ethics Initiative is active engagement of students - not research or publishing - that builds a solid principle-based ethical framework central to decision making in a complex business environment.