Management & Marketing
1000 E University Avenue
Dept 3275
Laramie, WY 82071
Phone: (307) 766-3444
Email:
tmazur@uwyo.edu
Business Ethics Education
As one of its three core competencies in ethics, entrepreneurship, and sustainable business practices, the University of Wyoming College of Business launched its current Business Ethics program in 2005 under the guidance of Professors O.C. and Linda Ferrell.  Endowed by the Daniels Fund, the program is a statewide initiative that draws on and reinforces Wyoming's existing reputation as a highly ethical place in which to do business.  The Business Ethics program advances research and teaching regionally and nationally via the Daniels Fund Ethics Consortium of eight universities across the Rocky Mountain West.
The College believes that exposing students to "real world" decision situations and interactions with senior business and government decision makers, as well as integrating ethical decision making methods throughout the business curriculum, are essential for students as they prepare to assume roles in today's fast-paced, globalized business world. Wyoming businesses, community colleges, and NGO's use the program as a business ethics and social responsibility resource, while providing living examples of ethical decision making challenges in return.
Tim Mazur is the Bill Daniels Distinguished Professor of Business Ethics. In this role, which Tim began in Summer 2014, he teaches undergraduate and graduate courses, leads business ethics initiatives both on- and off-campus, and represents Wyoming in the Daniels Fund Ethics Initiative.
Previously, Tim spent eight years as the Chief Operating Officer of the Ethics & Compliance Officer Association (ECOA), the world's leading professional association for ethics and compliance officers and their staffs. Tim helped lead the ECOA's pursuit of its mission from two perspectives: operational and functional. As operations leader, Tim managed the association's $2.5 million budget and led its staff of ten. On the functional side, Tim leveraged his experience as a former ethics officer at two Fortune 500 corporations to help Executive Director Keith Darcy shape the association's strategy.
Tim is an ethicist with 27 years of experience in business ethics and social responsibility. Prior to joining the ECOA, Tim was vice president, ethics, at Countrywide Financial Corporation. Tim joined Countrywide after serving as regional ethics and compliance officer and regional privacy officer for Blue Cross Blue Shield in Colorado.
Tim's first few years in ethics and compliance were as a management consultant, at times with KPMG LLP, the Council for Ethics in Economics, the Markkula Center for Applied Ethics, the Josephson Institute for the Advancement of Ethics, and the Ethics Resource Center. In these roles, Tim helped 44 clients reshape their law-based compliance programs into values-based ethics programs.
Prior to Wyoming, Tim has taught in the M.B.A. programs at six universities, published numerous professional articles, and served as executive-in-residence at a business school. He has sat on the boards of two nonprofit organizations and appeared on national television, in print, and on radio as a business commentator. He worked in Washington, D.C., for the U.S. Congress; delivered testimony at a hearing before the U.S. Sentencing Commission; and, in a criminal matter, served as an expert witness to the U.S. Department of Justice for judging the effectiveness of a corporate ethics program.
Tim earned his M.B.A. degree in business economics and public policy at The George Washington University and a B.A. degree in political science at San Diego State University.
Daniels Fund Ethics Initiative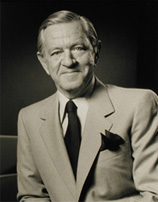 The University of Wyoming is one of eight universities that participate in the Daniels Fund Ethics Initiative. The primary objective of the Daniels Fund Ethics Initiative is active engagement of students - not research or publishing - that builds a solid principle-based ethical framework central to decision making in a complex business environment.