College of Business
MBA Program
1000 East University Avenue
Dept. 3275
Laramie, WY 82071
Phone: 307.766.2449
Email:
mba@uwyo.edu
The University of Wyoming MBA 
There are many reasons individuals seek an MBA degree from the University of Wyoming, ranging from enhanced career and professional development to gaining the necessary skills to start a new business. More importantly, individuals want to receive a quality education delivered in a state of the art learning environment that grants access to renowned faculty, executive leadership and industry's best practices. Our program has built a reputation for delivering on all fronts, creating competitive distinction for those who graduate with an MBA Degree from the University of Wyoming.
Quality Education
Our MBA faculty includes renowned scholars, business leaders and entrepreneurs, all drawing upon real-life experience to provide superior and relevant instruction. The University of Wyoming Full-time, Energy Management and Executive MBA Programs have been recognized as meeting the highest standards in business education, holding accreditation from the Association to Advance Collegiate Schools of Business (AACSB) International. Of the more than 11,000 business schools worldwide, only 604 have earned AACSB accreditation -- less than 5%. AACSB-accredited business schools incorporate the world's highest standards for programs, teachers, research and students.
Interactive, Integrative Learning
Whether you enroll in the  Full-time, Energy, or Executive MBA program, we ensure interactive, integrative learning. By seamlessly integrating concepts and principles between courses, the MBA program allows students to develop skills necessary to solve challenging business problems, often in multi-disciplinary operating environments.
University of Wyoming MBA students are afforded many opportunities to network with global business executives and community leaders. Full Time and Energy MBA students travel to Germany's Pforzheim University, where they make on-site company visits and gain broad exposure to diverse business strategies. MBA students gain the value of interactive, integrative learning both in and outside the classroom.
News
May 22, 2013 — Lisa Ohnstad is the type of person to pay it forward.
April 5, 2012 — The University of Wyoming College of Business, in cooperation with UW's School of Energy Resources and College of Law, is launching two new energy-focused tracks this fall in conjunction with its full-time MBA program.
March 29, 2012 — Eight University of Wyoming MBA Program students are participating in a case study competition which requires innovative thinking centered on corporate profitability and environmental, social and ethical issues.
[+] Expand to see more news
Share This Page:
Distinguished Faculty & Experiential Learning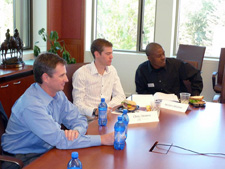 The On Campus MBA Program features innovative curriculum provided by a well-rounded and distinguished group of faculty members, along with on-site experiential learning in business environments. This combination was designed to provide our students with the skills necessary for career exploration and job placement.