Management & Marketing
1000 E University. Ave
Dept. 3275
Laramie, WY 82071
Phone: 307 766-3124
Fax: 307 766-3488
Email:
uwmgtmkt@uwyo.edu
The Department of Management and Marketing prepares future leaders to be effective in the competitive, dynamic environment of business with a special emphasis on sustainability, international business, entrepreneurship, and business ethics.  To achieve this goal, our cornerstone degrees of business administration, management, and marketing must be as nimble as the businesses we study--alert to signs of change, and responsive to employer needs.
The Department of Management and Marketing offers bachelor's degrees that provide you with the tools you'll need to successfully understand our ever-changing business world.  You can focus on a broad understanding of business with a Bachelor's Degree in Business Administration.  Our management degree program prepare students for professions in both business and government.  The management degree provides solid preparation to manage both people and things.  Our marketing degree program combines many different skills in demand for creating, communicating, and distributing value to the customer.
Find out more about our undergraduate programs:
| | |
| --- | --- |
| Majors | Minors  |
| Management Major  | Business Minor   |
| Marketing Major  | Decision Science Minor |
| Business Administration Major     | Entrepreneurship Minor |
| | International Business Minor |
| | Management Minor |
| | Marketing Minor  |
| | Marketing/Communication |
| | Sustainable Business Practices     |
Click here to learn about our Masters of Business Administration (MBA) program.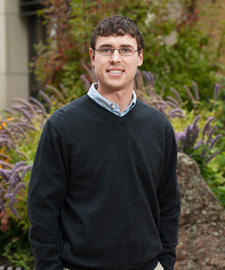 Spurred on by his love for the outdoors, Bret Leary is working towards a better understanding of factors that influence a person's decision to behave more sustainably. Along with his advisor Dr. John Mittelstaedt, Bret is investigating the social and psychological foundations of sustainable behavior and why people choose to behave in unsustainable ways, even when they express concern for the environment. Bret hopes that his research will shed light onto how (and why) people rationalize their unsustainable behavior and provide insight into how more sustainable consumption can be achieved.