DNP Program
Doctor of Nursing Practice Program
---
distance-accessible* doctoral program for the registered nurse with a baccalaureate degree in nursing (BSN)

---
Program Overview
The Doctor of Nursing Practice (DNP) degree is the new standard for advanced practice nursing education. The FWWSON has two clinical options: family nurse practitioner (FNP) and psychiatric mental health nurse practitioner (PMHNP). For master's-prepared FNPs or PMHNPs, the school offers an option for obtaining the DNP degree; however, this option requires that these individuals take the entire post-BSN plan of study, including coursework to prepare them in another population area: FNP or PMHNP. Please review the program's unique mission and philosophy.
FNP option prepares students for careers in rural primary care. All FNP courses are offered through the FWWSON.

PMHNP option prepares student for careers in rural psychiatric mental health care. This option is offered by the FWWSON in collaboration with the College of Nursing at the University of Colorado (CU). Students take core courses and clinical practica courses through the FWWSON. In addition, students take four didactic psychiatric mental health courses through CU during the second year in the program. These courses are offered primarily online, and travel to CU is minimal.
Click on the bullets below for more information about the DNP Program:
Application Deadlines

For FNP option:
Application cycle has closed. Please check back early summer 2017 for the 2018 Application Deadline.

For PMHNP option:
Still accepting PMHNP applications until March 31, 2017.

Courses/Program of Study
Still have questions after reviewing above information? 
---
*Our innovative DNP program has unique requirements regarding time commitment, on-campus intensives, and clinical placements. Before applying to our program, please read through our Frequently Asked Questions (FAQs in the bulleted listing above) to make sure that our program meets your needs.

---
Updated: 5/17/2017

One student's experience in DNP education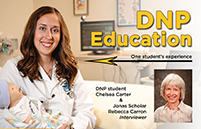 Thinking of pursuing further nursing education? Listen to this pod cast for information about graduate education through one student's experience in the DNP program. (Rebecca Carron, UW alumnae and Jonas Nurse Leader Scholar, interviews Chelsea Carter, UW DNP student.)