A Quick and Easy Guide to FAFSA
October 1, 2018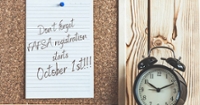 By: Sam Stein, School of Energy Resources Student Ambassador

The Free Application for Federal Students Aid (FASFA) form for college financial aid is now open for the 2018-2019 school year. Applying is quick and easy. Here's what you'll need to do:
Apply for a FSA ID to electronically sign you FASFA. Have your parents apply for one as well if you are a dependent student.
Go to https://studentaid.ed.gov/sa/fafsa to complete the online application.
Make sure you have your 2016 income and tax information. THIS IS REQUIRED!
Additional information needed includes your Social Security number, your parents' Social Security numbers if you are a dependent student, your driver's license number, your Alien Registration number if you are not a U.S. citizen, records of your untaxed income, and information on cash, savings and checking account balances.
You will also need the University of Wyoming's (UW) federal school code. Our code is 003932.
Completing FASFA online takes only a few minutes and is completely free. You can access the website by going to https://studentaid.ed.gov/sa/fafsa or http://www.uwyo.edu/sfa/applying-for-financial-aid/index.html where you can learn a bit more about FASFA from UW.
Follow Federal Student Aid on Twitter for current updates.