Center for Economic Geology Research Expands Subsurface Modeling Team with Two New Additions
September 28, 2022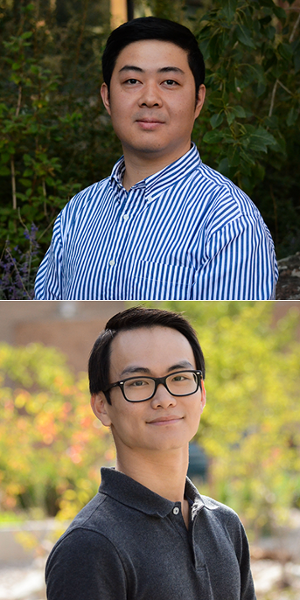 The School of Energy Resources (SER) is pleased to welcome two new research scientists to the Center for Economic Geology Research (CEGR). With backgrounds in petroleum engineering, researchers Tao Bai of Guang'an, China, and Lu Lee of Taipei, Taiwan, round out the geomodelling team in the center.
Tasked with providing detailed mechanical modeling of subsurface reservoirs and flow behavior in rock formations, Bai and Lee will work under the supervision of CEGR Project Manager, John Jiao. Primarily exploring the potential of geologic storage for carbon dioxide and hydrogen, and overseeing pressure management, their presence at SER will help speed up the projects that are currently underway, and will contribute to the success of new projects that are forthcoming.
"The addition of both Tao and Lu could not come at a better time," says Jiao. "Tao's expertise in in geomechanical modeling and machine learning will bring so much to the ongoing efforts in carbon storage, while Lu's background in petrophysical analysis and characterization will help advance future opportunities."
Both Bai and Lee bring extensive experience to CEGR in geostatistical modeling, multiphase flow simulation, and seismic detection.
"As we continue to grow and get more and more projects and funding, we are fortunate to have Lu and Tao here along with their abilities as they have seamlessly integrated into the SER team and are already accomplishing important work," adds Jiao.
A recent graduate of the University of Wyoming, Bai earned his Ph.D. in Petroleum Engineering under the tutelage of Dr. Pejman Tahmasebi in the Center of Innovation for Flow Through Porous Media (COIFPM) where he excelled in software programming and geologic modeling. The lead author on a paper published in Geophysical Journal International with Pejman, Bai developed a machine learning model that improves the accuracy of detecting earthquakes by 14.5 percent compared to the most accurate current existing model.
In addition to the seismic detection article, Bai has been the lead or co-author on nearly a dozen publications combining machine learning and geostatistical modeling.
Prior to attending UW, Bai earned his bachelor's degree in Oil and Gas Storage and Transportation Engineering from Southwest Petroleum University in Sichuan, China, before attending the University of Tulsa for a master's degree in Petroleum Engineering.
"I am really excited that I can continue my research and work with the SER team," Bai says. "I believe I can contribute to the underground storage projects by bringing new ideas and research themes."
Drawn to Wyoming by the dynamic geology and cutting-edge research, Lee works on the actual properties of the rocks within storage reservoirs and geomechanical characteristics.
"I'm so thrilled to be part of the SER team," says Lee. "The innovative research approaches, industrial engineering practices and friendly work environment are why I decided to join the team. I've always wanted to apply my skills and experience to have an impact on society. I'm looking forward to this exciting journey!"
Lee earned his bachelor's degree in Petroleum Engineering from the University of Houston before completing his doctoral degree in Energy and Mineral Engineering from Penn State University. Immediately following his Ph.D., he worked as a postdoctoral researcher for the department where he planned and executed research projects related to geomechanical applications in both petroleum and geothermal wells. 
In addition to his impeccable research and aptitude for geomodelling, Lee has been recognized for his leadership abilities in multiple roles. In 2019, he was the recipient of the Outstanding Graduate Teaching Assistant Award at Penn State in recognition of his hard work and exceptional dedication in teaching and supporting undergraduate engineering courses.
"We are really fortunate to have the talent, skills, and enthusiasm brought by Tao and Lu," says CEGR Director, Fred McLaughlin. "We have been working with Tao since he was a student, and we are excited to be part of his first professional endeavor. He is already doing amazing things. We are equally excited to have Lu here. He brings so much experience with reservoir simulations, and he also provides a new and much-needed skillset to our group with petrophysics and reservoir characterizations."