AEM Success
The beat goes on
Jack is an energetic 10-year-old who enjoys winter sports, Minecraft, geography, and aspires to be king of the world. He is also an enthusiastic musician. Last year, he played the recorder, and this year he began studying percussion. However, Jack's optic nerve hypoplasia has made the traditional methods of reading music frustrating. Sheet music is typically too small, and enlarged posters of the music require him to get very close and are often unwieldy.
Emily Hebbert, a teacher of the visually impaired who works with Jack, had an idea. She reached out to the team at Wyoming Assistive Technology Resources (WATR) and the Wyoming Accessible Educational Materials (AEM) Clearinghouse for assistance. Emily borrowed a Blue2 Bluetooth switch made by AbleNet. She wanted to take pictures of the music with an iPad and crop them to one or two measures at a time. By converting the music from its standard printed format to a large, digital format, Emily was able to provide the materials in an accessible manner. Connecting Jack's iPad to the foot switch now allows him to move forward and backward through the music, hands-free.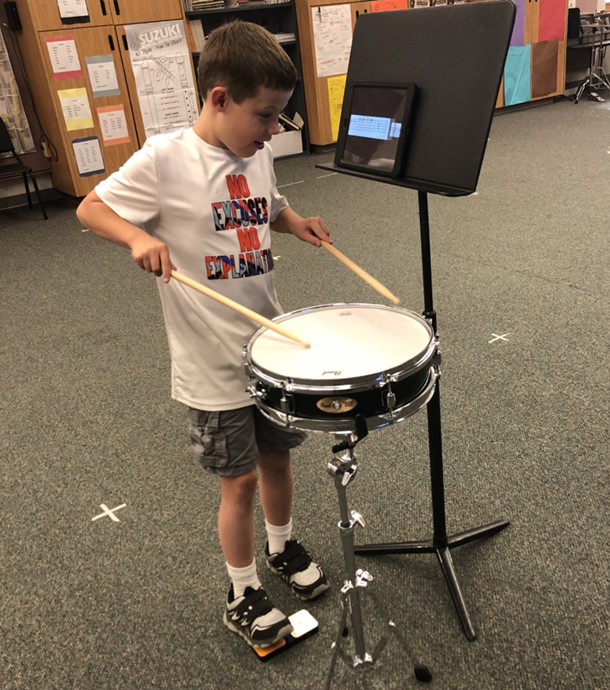 Shelby Kappler, assistive technology program specialist, and Terri Wofford, WATR speech language pathologist, worked together to configure the settings to help make the system work for Jack and Emily. After a trial run with the Blue2 Bluetooth switch, Jack's school purchased one for him to use permanently. The alternate format now lets him access his music and participate equally with the other students. While Jack and Emily continue to experiment with different photo configurations, as well as practice the balance required to work the foot switch while playing the drums, the collaboration between Jack, his teacher, AEM, and WATR has been a great success.