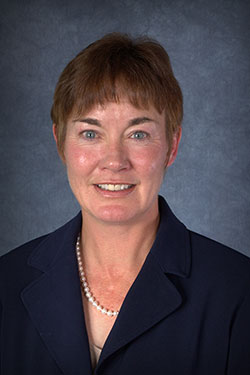 Anne Alexander
Interim Provost of Academic Affairs; Associate Lecturer

BU 278 W | Office Hours
307-766-3678 | aalex@uwyo.edu
About
Anne Alexander is Interim Provost and Vice President of Academic Affairs at the University of Wyoming. She earned her Ph.D. in Economics at UW, and her Master's and BBA in Economics from New Mexico State University. Dr. Alexander's research and teaching focuses on the history of American capitalism, international economics, and health economics. She regularly speaks to statewide audiences and state and national media about the status of the Wyoming, US, and global economies. She produces an annual economic and statewide engagement report on the impacts of the University on the state, and she has authored several publications on the political and economic impacts of transboundary pandemics and the productivity effects of various diseases. Prior to her position in Academic Affairs, she was the Director of International Programs and Associate Dean of Outreach at UW. She has also served as a Resources Economist in the U.S. Department of State, Assistant Dean of the UW College of Business, and Director of the interdisciplinary Health Economics Policy Center at UW. She is an alumni of Leadership Wyoming, Class of 2013.
Selected Publications
Willms, D., & Alexander, A. (2014). The North American model of wildlife conservation in Wyoming: understanding it, preserving it, and funding its future. Wyo. L. Rev., 14, 659.
Wahlqvist, P., Brook, R. A., Campbell, S. M., Wallander, M. A., Alexander, A. M., Smeeding, J. E., & Kleinman, N. L. (2008). Objective measurement of work absence and on-the-job productivity: a case-control study of US employees with and without gastroesophageal reflux disease. Journal of occupational and environmental medicine, 50(1), 25-31.
Alexander, A. M., List, J. A., Margolis, M., & d'Arge, R. C. (1998). A method for valuing global ecosystem services. Ecological Economics, 27(2), 161-170.
Education
PhD, University of Wyoming
MA, New Mexico State University
BBA, New Mexico State University