Meet Our Residents
Family Medicine Residency Program - Cheyenne
Rachel Banach, M.D.

PGY III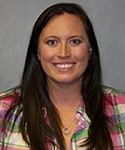 As a lover of the outdoors, Rachel knew she belonged in the west, especially after living and working in Colorado before starting medical school.  Her passion for family medicine flourished when she realized it is a very versatile specialty. Rachel is interested in everything from patient centered care, procedures, emergency and urgent care, integrative medicine, rural medicine, LGBTQ+ health care, wilderness medicine, OB and women's health. Rachel is also interested in international medicine and looks forward to medical mission trips throughout her career.
Rachel values traveling and loves experiencing culture, food, and various landscapes. She plans to incorporate her travels, her residency training, and both her master's in public health and health psychology to provide holistic multidisciplinary medical care.

When she is not studying or working, she enjoys games, exercising, hiking with her girlfriend and dog, camping, playing most sports, snowboarding, golfing, or biking. If not a physician, Rachel would have been a chef and a restaurant owner as she enjoys crafting meals and drinks and serving it to others. After residency, she plans to travel, write a book or two, and have her own taco truck with farm fresh sustainable ingredients.