Day in the Life
In Spring 2022 the Malcolm Wallop Civic Engagement Team launched a new feature of its K-12 Curriculum Project, our "Day in the Life" series. We asked a wide range of Wyoming community members, from different professions, to create a short "Day in the Life" video, featuring their daily work life and highlighting what makes their job meaningful for them. This content is shared in the Wallop virtual curriculum catalog, which we provide free to Wyoming K-12 social studies teachers and students on the University of Wyoming's WyoLearn website (link). These "Day in the Life" videos supplement the Wallop K-12 Curriculum Project directly by providing students with examples of people from a variety of professions available through study of social studies and beyond.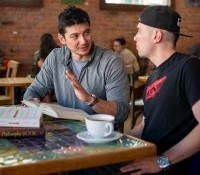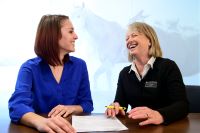 Day in the Life videos include A Day in the Life of a Spawning Coordinator for Wyoming Game and Fish, A Day in the Life of an AmeriCorps Campus Compact member, and more! If you'd be interested in sharing your Day in the Life or know of someone who'd like to share their career path, please contact us at
wallop@uwyo.edu
.
---
Professionals in these videos discuss the topics below and more.
Introduce yourself. 

What's your name? 

What's your current job title? 

How long have you been in that position? 

Tell us about your background. 

Where did you grow up? 

What is your educational background? 

What is your professional background or how would you describe your career path? 

Tell us about your current job. 

What's your basic job description? What does your typical work day look like? 

What part of your job do you find most interesting and why? 

What is something you do regularly as part of your job that most people wouldn't know about? 

What do you like most about your job? 

Tell us your thoughts on the future of your professional field. 

What challenges do you see your field facing in the future? 

What opportunities do you see in your field in the future? 

What advice would you give a student who is considering a job like yours for their future? 
For more information about this project, or to make inquiries about participating, contact wallop@uwyo.edu.