Virtual Exhibits
Connecting Wyoming to the World: A History of the University of Wyoming
Introduction | Part 1 | Part 2 | Part 3 | Part 4 | Part 5 | Part 6 | Part 7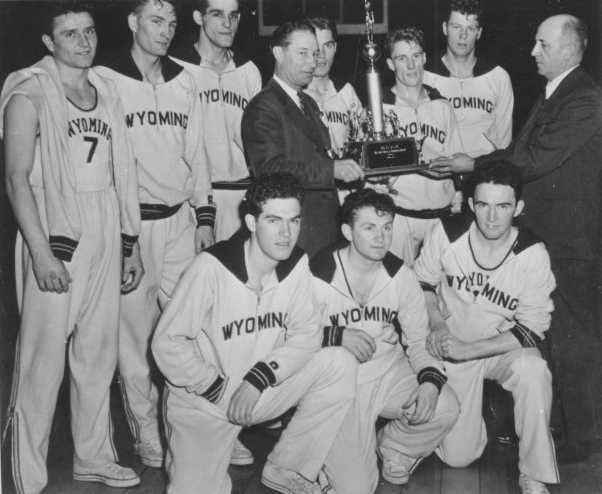 Athletics have always been an integral and exciting part of the UW campus community. Cowboy sports teams have competed against both regional and national powers connecting with fans across the state, as well as Alumni and former Wyoming residents transplanted throughout the country. Over the years, UW players and teams have made numerous trips to bowl games, participated in Olympic trials in skiing, swimming, track and diving, and made numerous trips to the NCAA Tournament.

Some highlights include the 2004 victory by the Cowboy football team in the Las Vegas Bowl and the 1943 National Championship Men's Basketball Squad win at New York's Madison Square Garden. UW athletic programs developed opportunities for both male and female athletes long before Title IX officially provided total equality in athletic programs.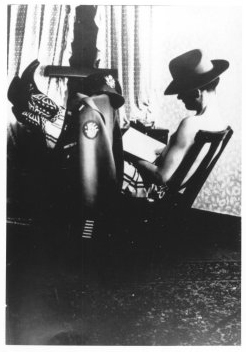 A cowboy, a soldier, and a student all rolled into one. This University of Wyoming student represents the three directions in which young men in Wyoming were pulled during the Second World War.
This aerial view of campus shows how the expansion of the University of Wyoming was inherently connected to the growth and development of the city of Laramie during the first fifty years of the University's existence. The university experienced much growth during the nearly twenty-year administration of President George "Duke" Humphrey who undertook a grand campus building project. This twenty-million dollar building plan included most of the buildings that define the campus today, including the Agriculture Building, Ross Hall, the Education Building, the Anthropology Building, and the William Robertson Coe Library.
Introduction | Part 1 | Part 2 | Part 3 | Part 4 | Part 5 | Part 6 | Part 7