Rural Living in Wyoming
Barnyards & Backyards
Barnyards & Backyards and Coronavirus
We at Barnyards & Backyards are here to help you through the trying times of the Coronavirus and social distancing.
Please enjoy our Spring 2020 Edition for FREE.
Articles include:
Time to spring ahead to growing season
Considering a value-added food venture? There's a three-step approach
Landowners should be aware 2020 may be a high grasshopper year
So you want to be a shepherd - now you get to lamb
Watch your ash because the emerald ash borer could sneak into Wyoming
Best of both worlds! Beauty for the eye, flavor for the table
Prevention is key to keeping mosquito-borne diseases at bay
Getting the most from your wheel line or hand line irrigation system
Understanding temperature inversions, mitigating pesticide drift - and maintaining friendly neighbors
Feel there is too much to do and too little time? Try some time management techniques
Welcome to Barnyards & Backyards
Are you curious about how to live better on your acreage? 
Receive our hardcopy quarterly magazine in your mailbox! 
Barnyards & Backyards: Rural Living in Wyoming
 features articles written by natural resource experts on:
Barnyards & Backyards is perfect for the small acreage landowner, new landowner or backyard enthusiast. Use this website to find out more about the publication, the resources and the partnership that created them.

Barnyards & Backyards has gone live! Join our hosts online (Zoom) as we have a friendly chat with our guests about a variety interesting subjects - growing vegetable & fruits, raising livestock, growing trees, native plants, pasture management and more! Type your questions in the chat box as we go along. Missed it live?  Find recordings and other useful links from the show on our recordings page.
[+] Expand to see events
Partner Organizations

ASK A QUESTION
Do you have a question? Get a response to your question from an expert in Wyoming. Submit Your Question Now!
BARNYARDS & BACKYARDS: RURAL LIVING IN WYOMING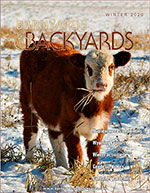 Quarterly magazine perfect for the small acreage landowner. Subscribe and stay informed! Subscribe and view archived articles.
BOB JORDAN | FERTILITY & SOIL MANAGEMENT IN HIGH TUNNELS